Skiing in South America:
2022's Ultimate Guide to Skiing The Andes Ski Resorts and Backcountry
This updated travel guide will teach you everything you need to know about the best skiing in South America.
You'll also discover how to plan your perfect ski resort or backcountry ski trip to South America in 2022.
With over 23 years experience skiing the Andes, we teach you when and where to go, how to get there, plus valuable tips on the best South America ski resorts and backcountry touring destinations.
Skiing South America During the COVID Pandemic
While many South America ski resorts were open for the 2021 ski season, border closures and restricted in-country travel remained in effect. However for 2022, both Chile and Argentina are receiving international tourist once again.
Ski South America Destination Guide Contents:
Ski South America:
Welcome to Skiing The Andes Mountains
Snowboarding and skiing the Andes Mountains during the Northern Hemisphere summer is one of the world's most awe-inspiring experiences and a must-do on any powder hounds bucket list.
As the longest mountain range (4,300 miles) with the second-highest peaks on the planet, the Andes provide not only an adventure of a lifetime, but reverse seasons that allow northerners to escape the hot days of summer and keep the "Endless Winter" alive.
While Latin America is home to 20 countries (South America hosts 12 sovereign countries), only 2 countries host ski resorts worth visiting: Argentina and Chile. Bolivia and Peru ski resorts are no longer in existence, but do host some major high alpine ski mountaineering opportunities. We've chosen to focus this guidebook around the best snow sport destinations and ski resorts in Argentina and Chile.
Top South America ski resort destinations (detailed in Chapter 2) are often ranked as some of the world's best ski resorts. Destinations vary from local, seat-of-the-pants snow sports operations to internationally renowned, world-class ski resorts and winter sports destinations with high-end accommodation and a modern lift infrastructure. 
A laid-back ambiance of the ski resorts in Argentina and Chile means that on most days there are hardly any lift lines or many people on the slopes.
If you'd like to push the adventure further, there exists a seemingly endless amount of out of bounds and backcountry skiing and splitboarding opportunities.
Here you can find suggested guided backcountry ski tours >
Off the ski slopes, snow sport destination resorts and local villages in both Chile and Argentina offer fabulous dining paired with wine that both countries are famous for. South Americans love to party and the lively nightlife scene can last well until the break of dawn.
Pair your summer ski trip to South America with a wine-tasting trip, a visit to Santiago or Buenos Aires, or any other of the easily accessed pre or post tours, and you have the makings of one spectacular summer vacation.
In addition, Chile and Argentina are very family friendly. With school vacations in the northern hemisphere, a South America ski trip could very well be the best family summer holiday you'll ever have.
Need assistance planning? Contact us. Toll Free USA 1-888-565-7158. 
In the next section you'll learn about the best ski resorts in the Andes.
South America Ski Resorts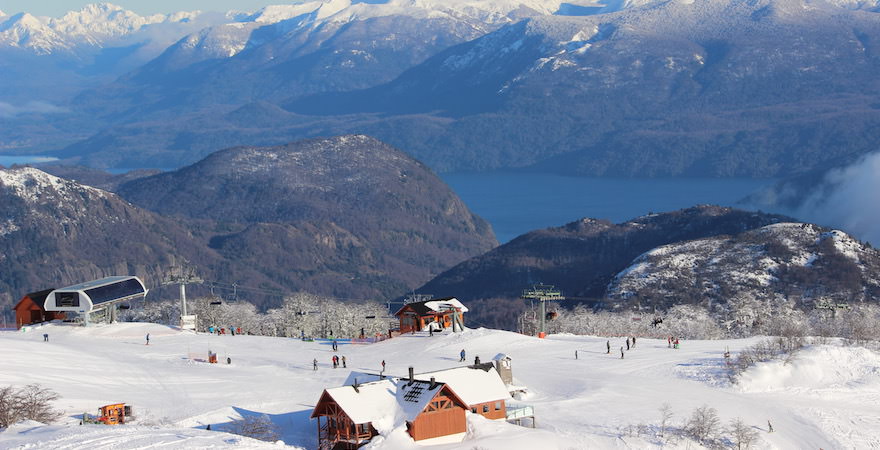 Ski resorts in South America operate during the Southern Hemisphere winter and spring months June to October.
Travelers can expect large, high-quality, internationally renowned ski destinations such as Portillo resort and Valle Nevado resort in Chile.
Las Leñas resort and Catedral resort are the mega winter sports destinations of Argentina. In fact, Cerro Catedral outside of the city of Bariloche is the largest ski resort in South America.
Smaller, off-the-radar Latin American ski resort getaways are Chapelco resort and boutique Cerro Bayo in Argentina and Pucón, Antillanca, Osorno and Corralco ski resort in Chile. These smaller Andean resorts are nestled in Jurassic-like old growth forest with jaw-dropping landscapes and zero crowds (except a few 3-day weekends a two-week period in mid-July during school holidays).
Up next you'll find ski maps of the main ski resorts in Argentina and Chile, plus our opinion on rankings on the best South American ski areas.
Map of Ski Resorts in South America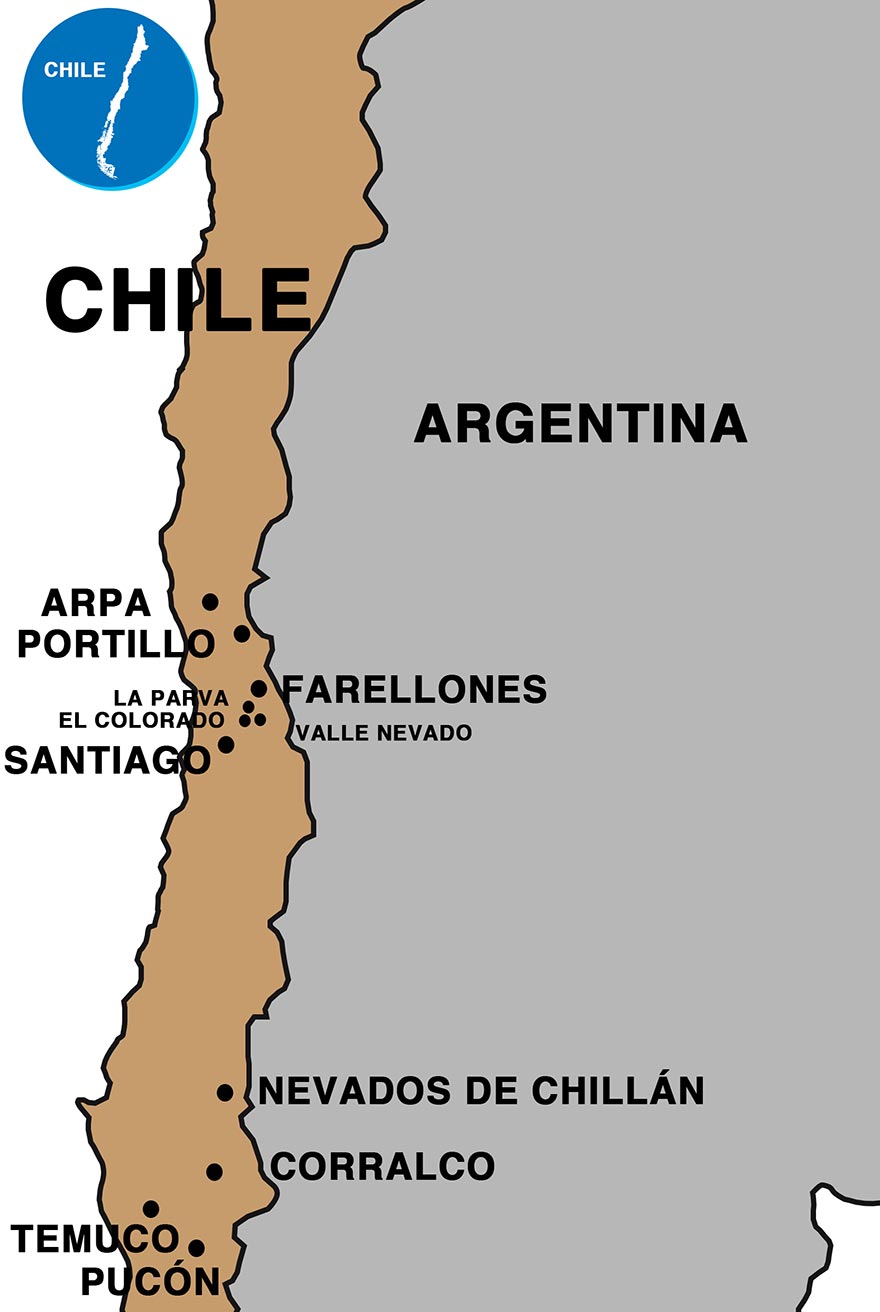 Best Ski Resorts in South America
The #1 question we get at PowderQuest…
"Which is the best ski resort in The Andes?"
After 20 + years exploring dozens of South American ski resorts, we continue to find the question difficult to answer.
Why?
Because like skiing in Canada, each ski resort in Chile and Argentina has its own unique charm and most travelers arrive with differing interests, expectations, skill levels, and time frames.
However, as a general rule of thumb:
Our experts have compiled extensive user guides with travel tips and resort reviews to our favorite ski destinations in both Chile and Argentina.
Dig deeper into exploring the beautiful Andes ski areas:
Adventure Travel Tip: The smaller destinations at the base of smoking Chilean volcanoes should not be overlooked as skiing the skirts of an active volcano is found in few places on the planet. At the end of the day you can soak in natural thermal hot springs under the canopy of an old growth forest and monkey puzzle trees. Truly unforgettable. Check out this guided Chile backcountry adventure exploring Chile's iconic volcanoes and cozy lodges for 7 nights/8 days.
Popular Trips to the Best Ski Resorts in the Andes
Ski like a local. Visit multiple ski resorts in one trip with friendly local ski guides keen on introducing you to their countries cultures and resort's secret spots.
Country:
Argentina, South America
Duration:
8 Days / 7 Nights
Limited to:
6 guests
From:
$3799 USD
Dates:
JUL 31-7 / AUG 19-26 / AUG 28-4
Learn More >
Country:
Chile, South America
Duration:
7 Days / 6 Nights
Limited to:
6 guests
From:
$4499 USD
Dates:
JUL 17-23 / JUL 24-30 / JUL 31-6 / AUG 7-13 / AUG 16-22
Learn More >
Best Time to Ski South America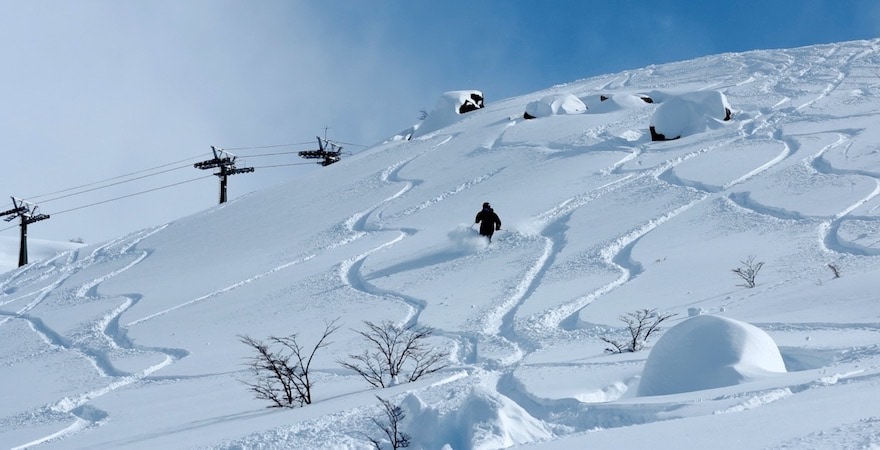 The South America ski season is June to October, but can on occasion begin as early as mid-May and extend into early November. For example Corralco in Chile did not close until November 4th during the 2019 ski season.
The two middle weeks of July are South American school holiday. Expect increased lift lines and higher prices on lift tickets and lodging. Find updated lift ticket prices here >
The rest of the season, with the exception of the occasional 3 day weekend, is very quiet, especially compared to North American ski resorts.
How's The Snow in South America?
Weather and snow conditions are unpredictable in the Andes, more so than at ski destinations in the US, and climate can vary considerably depending on the month and where you are traveling. The quality of snow in South America sits somewhere between the kind of Pacific coastal snow found in British Columbia resorts and when skiing the Whistler backcountry, and dry powder snow seen at resorts in Utah and even Japan. (albeit obviously not as consistent as you find when on a ski tour to Hokkaido)
Andean storms are typically big and leave a lot of fresh snow followed by bluebird skies. They cycle through periodically as opposed to continually, but with so few people on the mountain, powder days can last longer than you'd see at a US-based resort. 
The high altitude of the Central Chilean Andes backcountry and resorts (all within a short drive from Santiago, Chile) help preserve the powder for weeks. If you are mountain savvy, willing to earn your turns and/or join a week-long guided ski tour with certified ski guides, you can find preserved winter powder snow even on a below average season.
Mid to late June can surprise with a big dump and truly outstanding conditions, but on average the best time to ski South America is late July, all of August, and the first two weeks of September, but even in early September temperatures are heating up and a mix of winter and corn snow (melt-freeze snow, only 2nd best to powder!) is the norm.
For backcountry skiing and splitboarding, late July onward gives the Andes enough time to accumulate snow, and backcountry touring options can last well into mid-late October out of the resorts.
For 100% human powered backcountry touring, the Chilean volcanoes and Argentine Patagonia offer quality snow from July well into mid-November. Check out this 7-day advanced-expert hut based ski touring and splitboarding adventure
Ski Resort Vacations to South America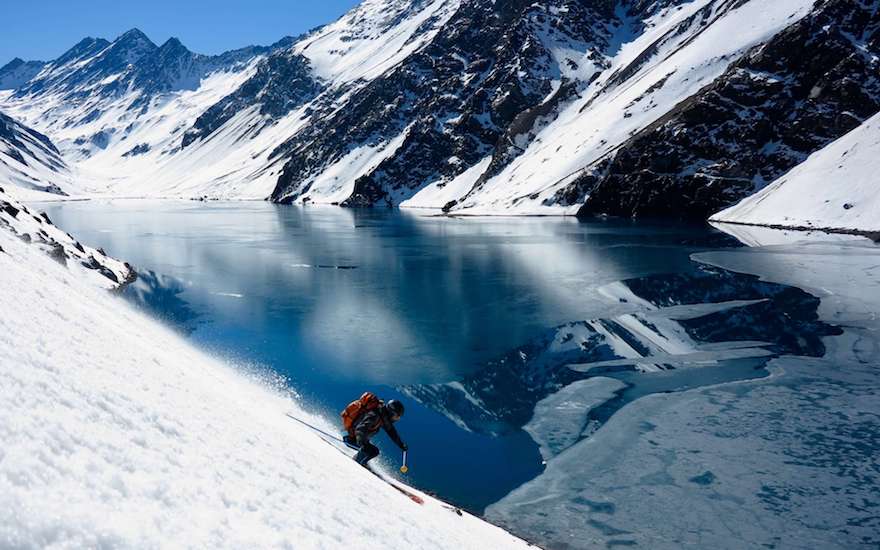 Travelers with limited time seeking a quick ski escape vacation might prefer a Ski South America Package staying in one resort destination (like the famous Portillo resort pictured above), packaging together all the amenities needed for a great ski vacation in the Andes, including:
select mid-level to high-scale lodging options
lift tickets
ground transfer in and out 
meals
add-on packages including boutique wine tours, Easter Island and other cultural excursions
PowderQuest Tours offers 2 decades of experience building custom South America ski resort vacation packages and honeymoons. 
Guided Ski and Snowboard Tours in South America
Imagine a multifaceted travel experience skiing several of South America's best resorts or backcountry zones while delving into local culture with bilingual ski guides.
Welcome to PowderQuest small group guided South America ski and snowboard tours. Operating since 1999, our Andes ski tours are built to accommodate your ability level and how you like to spend your days in the mountains. Select from resort, off-piste and backcountry. Come explore with us!


Getting to South America's Ski Destinations
It may seem like a long journey but really, getting to ski destinations in South America is much easier than you think.
There are copious overnight flights to Santiago, Chile, (SCL) and Buenos Aires, Argentina (EZE) from North America, Europe and Australia, most of them nonstop direct from major hubs.
From the United States
American, United, Delta, Latam (flying to Chile only) and Aerolineas Argentinas airlines offer nonstop service from Miami, New York, Dallas, Atlanta, Los Angeles, and Houston. Direct flights from Los Angeles are available to Argentina on American Airlines, but many of their LAX to Santiago flights have a stopover in Lima, Peru, so be sure to check when booking. Check out Hopper for flight deals.
From Canada
Direct flights to Santiago and Buenos Aires are available only with Air Canada from Toronto. Flights from Calgary, Vancouver and other major Canadian cites route through Toronto or a hub in the US (better to fly out of Toronto and avoid the extra step of going through customs in the US).
From Australia
Direct flights to Santiago from Melbourne and Sydney are now available with Qantas. Flights to Buenos Aires from Australia are trickier, with one to two stopovers and a long travel time. If you do not need to fly to Buenos Aires, one hack is to fly to Santiago, Chile followed by a short 55min flight over the Andes to Mendoza, Argentina. From here make your journey to Las Lenas via ground transfer.
From Europe
Air France, Alitalia, Latam, Iberia, British Airways, and Norwegian airlines offer direct flights from Madrid, Rome, London and Paris.
Arriving to Santiago
The location of Santiago is similar to flying into Denver, CO, or Salt Lake City, UT, with close proximity to ski resorts, usually within a 90-minute to two-hour drive.
In fact, overnight flights with early arrival times mean you can be skiing at Valle Nevado, La Parva, El Colorado and Portillo ski areas by lunchtime once you arrive! Ski Arpa adventure-based cat skiing is also nearby and should not be missed by advanced powder hounds looking for a true Andean remote experience.
The Chilean resorts further south can be reached quite easily via a short domestic flight or ground transportation such as a train, sleeper bus, private transfer, or rental car. 
Arriving to Buenos Aires
Unlike Santiago, there are no ski resorts close to Buenos Aires which necessitates connecting with a domestic flight to reach the Andes region.
Some flights out of Buenos Aires require you to switch airports so be sure to allow time for these connections.
Getting from airport to airport in the city is quite simple with options ranging from private transfers with English-speaking drivers to pubic bus shuttles and of course the traditional taxi services (known as a remis). If you speak spanish, Google "Tienda Leon" for various transfer options bookable online.
Getting to the Ski Resorts of Argentina
The main airport hubs in Argentina for skiing are:
Malargue (airport code LGS) to get to Las Lenas via charter flights
Bariloche (airport code BRC), to access the resorts in the Patagonia Lake District (Cerro Catedral, Cerro Chapelco, Cerro Bayo and La Hoya)
San Martin de Los Andes (airport code CPC), the quickest route to Chapelco ski resort
Ushuaia (airport code USH) to get to Cerro Castor, the southernmost ski area in the world
Skiing in Argentina vs Chile
Another frequent question we receive is how to compare the skiing quality between Chile and Argentina.
Let's break down skiing Argentina versus skiing Chile geographically:
Central Chile and East Central Argentina
Chile Ski Resorts: Portillo, Valle Nevado, La Parva, El Colorado
Argentina Ski Resort: Las Leñas
These ski areas are all above tree line (timberline), located at high altitudes and receive drier snow than their southern counterparts. They can on average receive less snow than Patagonia.
The steepest resort skiing in the Southern Hemisphere is found on and around the slopes of Las Leñas. Do be aware it can take a very long time for the lift crew at Las Leñas to dig out the Marte chairlift after a big storm, so expect some down time with this famous lift.
Skiing in Chile's Portillo and lesser known La Parva (one of our favorites due to low skier traffic and unique advanced terrain) also offers some steep skiing. The snow remains cold and dry most of the season.
Chile's Valle Nevado means "snowy valley" for good reason. Due to the location, the international resort tends to trap the most snow compared to neighboring La Parva and El Colorado resorts. That said, don't rule out a trip to the lesser known resort of El Colorado. You will find plenty of groomed terrain, wide open off-piste bowls and one of Chile's most legendary out of bounds zones.
Trip Planner Ideas
As you can see the central zone in Chile offers some very good options. Can't decide? How about a trip to all of the resorts above with professional guides, meals, lift tickets, private transportation and lodging all included? Take you pick from the following trip styles:
Advanced off-piste skiing including hikes to the best backcountry zones. Learn more >
Resort off-piste and secret spots with no hiking required. Learn more >
Northern Patagonia/Lake District
Chile Ski Resorts: Corralco, Pucón, Antillanca
Argentina Ski Resorts: Chapelco, Cerro Bayo
All of these Patagonian resorts can receive a lot of precipitation, but temperatures can rise occasionally and that snow can turn to rain. The good news is that storms generally finish cool, so the rain often transitions back to snow adding more fresh snow to the deep bases.
South America Tree Skiing
While you would not want to focus your trip south of the border exclusively based around skiing trees (like some do on this Hokkaido powder tour to Japan), the tree skiing is better in Argentina compared to Chile.
You'll experience well spaced trees and more vertical. The best tree ski zones are found around Bariloche (covered in the next section), Cerro Bayo (Villa La Angostura's ski resort) and the Chapelco ski area outside of San Martin de Los Andes.
In Chile trees are found in much lower levels of each of these southern resorts resulting in heavier snow and shorter tree runs.
Of the listed resorts in this region, Argentina has, by far, better weather and overall better infrastructure, better terrain, and better skiing on the whole. However, our guests are still attracted to the Chilean side for the relaxed local culture, lush landscapes and opportunity to climb and backcountry ski active volcanoes.
Skiing South America's Volcanos
Chile's snow-drenched volcanoes tower above the lush green pastures. For a unique skiing experience off the beaten track check out Volcano Lonquimay (Corralco) and Volcano Villarrica (Pucón). With some organized planning you can arrange to ski on multiple Chilean volcanoes in one trip. Advanced Splitboarders and ski tourers should check out this advanced guided backcountry volcano ski adventure >
Patagonia
Chile Resorts: Nothing worth mentioning. Hopefully in the future more infrastructure will arrive to Chile's Patagonia. There is some great ski terrain and stunning landscapes.
Argentina Resorts: Alta Patagonia-Catedral and La Hoya
Alta Patagonia near Bariloche in Rio Negro has invested millions of $ over the past few years and is now one of the best ski resorts in South America. Alpine open bowls with stunning vistas of the surrounding Patagonia peaks and glacier cut lakes. Tree skiing in old growth forest. Backcountry access to some truly epic terrain. Family friendly with one of South America's best ski schools. 
La Hoya in Chubut is much smaller, but has good steep skiing and is worth checking out. It is also one of the coldest areas in Argentina for skiing so the powder stays pure and the season can extend well into October. So, to summarize, in Patagonia it's Argentina or nothing.
Wait, What about Nevados de Chillan in Chile?
Chile's stand-alone ski destination Chillan sits between the Central Valley and the Lake District, combining the best of both regions: good snowfall and drier conditions, and a good mix of alpine skiing and trees, with a massive volcano that can be explored for days with one of our qualified guides on select guided trips.
One of our all time favorites in the Andes. Get in touch for more info. 1-888-565-7158 or visit our contact us page in the top navigation.
South American Ski Resorts Compared to North America and Europe
Here are 2 key differences when comparing the Andes ski resorts to those in the Northern Hemisphere.
No Worm For The Early Bird

Overall expect later starts compared to what you are used to at most resorts in the Northern Hemisphere. The 7:00am rush to get to the tram line-up simply does not exist in the Andes. Most ski resorts open by 9:00am but full mountain operations can be delayed until mid-morning for no apparent reason.
When there is fresh snow or a current storm, these delays can be even longer. However, due to longer natural light, you can also ski later into the afternoon in South America. Some resorts do not stop running lifts until as late at 5:30pm.
Resort Infrastructure

If you are accustomed to North American ski resort amenities, you will find the infrastructure of some resorts more rustic, especially the speed and layout of the ski lifts. Groomed trails and slopes are not what you find in Colorado USA, and mountain hazards and boundaries are not marked as vigorously.
But Does All This Really Matter?
It's a matter of perspective. Simply put South America simply runs on a different pace and a distinct mindset.
The good news is, we find it all evens out. Some lifts may be slower, however 45 minute lift lines are virtually non-existent in the Andes (A few exceptions: Bariloche's Cerro Catedral on busy weekends. Las Lenas Marte chair on a powder day).
In addition, you do not have thousands of skiers fighting for those untracked powder runs. If you come with an open mind you will find this part of the world fascinating and quite often comfortably relaxing. And hey, you are skiing in August!
South America Backcountry Skiing & Splitboarding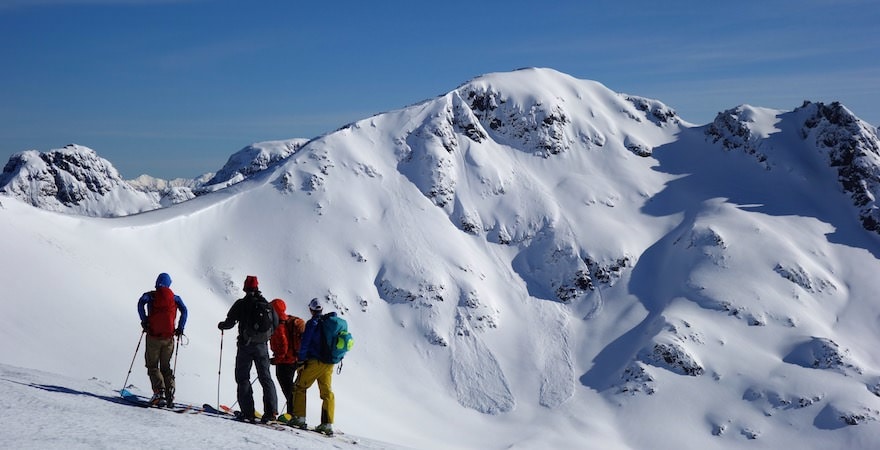 Ski resorts? No gracias. Cat-skiing, heli-skiing, and human-powered backcountry ski touring and splitboarding excursions are great options getting you to some of the best backcountry skiing in South America, if not on Earth.
Splitboard and ski tour remote, majestic peaks and Argentine glaciers. Earn your turns skinning around smoking Chilean volcanoes and remote temperate rain forest.
If mechanized adventures are more your style, South America hosts cat ski-assisted journeys, sledding and heli-ski trips that can feed your skiing soul with up to 5,000 feet of vertical descent in one run.
South America's backcountry touring terrain is massive. Easy access from most ski areas in Chile and Argentina open up a world of adventure for skiers and riders with climbing skins and a sense of adventure.
Need a certified ski guide to explore the Andes backcountry zones?
Check out these highly rated guided backcountry trip ideas >
Thanks for reading! To stay on top of South America skiing we invite you to join thousands of subscribers to our free monthly. You'll get travel tips, discounts and more awesome content 1x month and you can unsubscribe, anytime with 1 simple click.