Nevados de Chillan Ski Resort: 2022's Guide to Skiing Termas de Chillan
This guide will help you learn about skiing in Nevados de Chillan, Chile in record time. Even better, everything here applies to making it happen in 2022.
You don't need to worry about reading out of date info on this popular ski destination previously know as Termas de Chillan Ski Resort…and believe us, there is a lot of it out there!
 Let's drop right in, ski season starts in June.
Welcome to Nevados de Chillan:
A Freerider Paradise
Quite possibly the best playground for powder hounds and freeriding in Chile, the Nevados de Chillan Ski Resort (or simply "Chillan" as the locals call it) gets a deep average annual snowfall of over 30 feet.
Sitting at the base of active Stratovolcano Nevados de Chillan, the resort, previously known as Termas de Chillan, offers amazing terrain, powder, catskiing, hotsprings and is one of the few ski resorts in Chile with tree skiing. The contours of the volcano turn into a complete playground on a powder day.
What Happened to Termas de Chillan Ski Resort?
In 2008 when new ski resort concession holder Consorcio Chillán took over the ski area, they were forced to change the name Termas de Chillan ski resort to be able to legally function. Why? Because Termas de Chillan was a registered brand name used by the previous ski resort concession holder.
The brand Termas de Chillan was linked to diversified products and services such as tourism, telecommunications, clothing, bottled water, and even the thermal mud that can be found on the bottom of many of the nearby hot spring pools.
Consorcio Chillán chose Nevados de Chillan, named after the group of nearby volcanoes.  
Where to Stay in Nevados de Chillan
With 2 ski-in/ski-out Nevados de Chillan hotels, Hotel Termas de Chillan and the valley of Las Trancas there are a myriad of hotels, cabins and condos to choose from when planning your ski trip to Chillan.
*When booking a guided trip with PowderQuest Tours, all of your lodging is included in the trip package.
The Village of Las Trancas
Stay here for a variety of wood cabins, boutique lodges and condos. The advantages of staying in Las Trancas are access to more restaurants, better nightlife and the feel of staying in a local ski community.
The main disadvantage is the daily drive to and from the ski lifts. On a good day it is a quick 20 minutes each way. Unfortunately it does not take much for your commute time on this curvy mountain road to quickly double or triple. Snowstorms, traffic (especially on weekends and holidays), ice and fallen trees often cause big delays.
Ski-in Ski-out Hotels of Nevados De Chillan
The ease and comfort of ski-in/ski-out lodging cannot be denied. Nevados de Chillan resort is no exception, offering 2 hotels located right on the mountain. Not up for the daily drive from Las Trancas? This is your answer.
Combined, Hotel Nevados and Hotel Alto Nevados (our choice lodging for the guided Chile Snow Adventure tour) offer a total of 169 rooms. While no official star rating has been established to these hotels we would give them a 3 to 3.5 star rating. Both very comfortable with restaurant, bar, and access to thermal hot spring pools.
Hotel reservation and booking details in the upcoming chapter…
Ski Vacation Packages to Nevados de Chillan
Hotel Nevados and Hotel Alto Nevados are the two ski-in, ski-out hotels located within the ski resort.
Each hotel offers guests two holiday package plans to chose from: 
Plan Nevados includes: choice of hotel accommodations, 2 meals daily (breakfast and dinners), access to their entertainment and fitness centers, outdoor thermal pools, free WiFi and more. Deeply discounted lift tickets may be purchased at the hotel front desk.
Plan Full includes: everything from Plan Nevados plus daily lunch buffet and lift tickets for the length of your stay.
In addition to your choice of the two vacation package options, we will include in your vacation quote, round trip ground transportation Concepcion airport-Nevados de Chillan-Concepcion airport.
PowderQuest offers packages starting with a minimum of 3 nights, however in July, only 4 and 7 night options are available.
Hotel Nevados
We like the Hotel Nevados for it's location in the beautiful old growth forest and hot springs fed pool footsteps from your room. The only potential negative is at times, the hotel can be below the snow line making for a wet ski home or on drier seasons, the need to take a shuttle from the Alto Nevados hotel due to lack of snow on the access slope in the forest.
The Hotel Alto Nevados
Considered the best location as it is higher up on the mountain with easy access to the lifts. Modern rooms and a happening bar, especially apres ski. There are a series of hot spring pools a few minutes walk from the hotel.
Best Time to Ski Chillan: Resort to Backcountry
In this chapter, we'll cover the best time to snowboard and ski Nevados de Chillan resort and the surrounding backcountry. Ski season generally runs mid-June to early October.
June
Autumn snow storms in May can allow for last-minute travel plans for some pretty decent resort skiing in June. The bases are still quite low so you will want to keep on the slopes. To play it safe, if you're going to make the journey to Chile it is best to book mid-July onward.
Skiing in July
South American school holidays are the two middle weeks of July, and should may be avoided due to high prices, heavy crowds, and limited availability at the hotels. By the end of the month, the holiday crowds are gone and the snow bases are building both in the resort and in the backcountry. Generally some very good skiing can be found this time of year.
Skiing in August
August is the month international skiers and snowboarders migrate to The Andes. By now the mid-week holiday crowds are long gone, bases are deep, the resorts are 100% open, and the backcountry is on. Nevados de Chillan is no exception. 
Skiing in August is generally the best time to ski powder in Chillan as the storms move through more frequently.
September to October
Early to mid-September in Chillan often delivers some of the best skiing of the season with a good blend of winter storms and longer spring-like days. The resort can stay open until mid-October, depending on conditions and local demand.
Note that September 18 and 19 is Chile's Independence. While the cultural and party aspect really explodes, the resort is packed. This is one date to avoid (at least from a ski resort experience) when you can.
Best Time for Backcountry Ski Touring + Splitboarding Chillan
The real reason to visit Nevados de Chillan is the backcountry touring access and cat ski options to the peaks of Volcano Chillan and an area known as Los Nevados. If you know where you are going, you can explore some of the best off-piste adventures in South America, including Shangri-La, and the Pirrigallo chutes.
Hiking and touring in the Chillan backcountry gives you access to some of the longest descents and better terrain in the Andes including a backcountry playground that would take a full season to explore.
Chillan's lift accessed backcountry touring and splitboarding is best in August and September. Expect a good mix of storms delivering deep snow followed by a few days of stunning bluebird skies.
You can expect more daylight hours to ski the different aspects delivering outstanding corn skiing (generally mid-late morning) and cold winter snow on the south faces.
Staying Updated on
Snow Conditions and Weather Reports
Nevados de Chillan tends to receive large accumulations of snow + wind from low pressure systems arriving off the Pacific Ocean slamming head on with the 10,433ft Nevados de Chillan volcano.
Here are a few useful links and apps to stay up to date on current Chillan snow conditions and expected mountain weather. View the resort webcam > 
Chillan's New Snow Totals from Windy.com


5-Day Chillan Snow Forecast For Mid-Mountain
The Ski Terrain and What to Expect
Terrain – advanced to experts
Expert terrain around the Nevados de Chillan volcano and ski resort is endless. While most of the resort lacks the super steeps found in Chile's Portillo Resort to the north, most of the area is un-groomed with countless options for off-piste and "near-country" exploring.
The backcountry ski touring and splitboarding options are as wide as you could ever need with touring routes to remote volcanoes, hot thermal rivers, and long alpine descents to valley bottom.
If you know where you are going or join a PowderQuest Chillan backcountry ski tour, there is terrain that will blow your mind and keep you occupied for days. Cat skiing is also an option, bookable at the resort via their backcountry program.
Terrain – freestyle
The resort has a disappointing snow park set at a low angle and is rarely open or maintained except for times of local freestyle competitions. However the natural terrain is a snow park in itself where you get creative and find hits, drops and jibs from high above in the alpine to down in the trees around the Hotel Nevados.
Terrain – Intermediates
Fun off-piste and groomed slopes can be found all over the mountain including the 8 mile long ( 13 km) Tres Marias. Follow the run from the top to the resort base area and if you are adventurous, you can explore to the left and right of this run, finding good powder, fun terrain features, and more. Just make sure you know where you are going or you can get sucked into a gulley with the only way out being a steep hike out.
Beginners and non-skiers
If you are here to ski Chillan for the first time, the Nevados Ski School has decent facilities for people who want to learn to ski, however the small beginner area tends to get crowed and chaotic. Other activities include snowmobiling, dog sledding, snowshoeing and sightseeing as high as the volcanic crater accessed via snowcat.
How to Get to Nevados de Chillan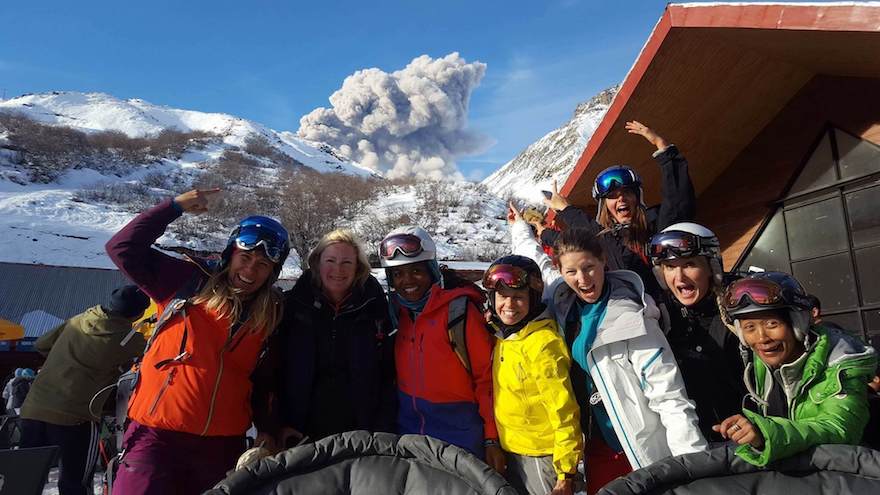 When you book a ski package with PowderQuest to Hotel Alto Nevados or Hotel Nevados de Chillan, we include round trip ground transportation from the airport. If you are researching or just getting started, we break down all the ways on getting to the resort below:
Flying From Santiago
If you are flying into Santiago and looking to ski Chillan, this is your quickest option to get there. The ski resort is situated 107 miles (172 km) east of the port city of Concepcion. Concepcion hosts the nearest airport to the ski resort; Carriel Sur International Airport (airport code CCP).
Numerous planes fly Santiago to Concepcion each and every day, and the trip is relatively quick, just under an hour. Two airlines offer services, LATAM and SKY. Prices vary considerably depending on how far in advance you book, dates of travel and luggage.
From the airport, the ski resort is about 2.5 hours away via resort shuttle or rent-a-car. When booking one of the two main resort hotels with us, we can include this shuttle service in your package.
Getting to Nevados de Chillan By Bus or Train
It is also possible to take a train or a bus from Santiago to the city of Chillan, located less than 50 miles (78 km) west of the resort and volcano. Once you arrive to the city of Chillan, you need to take a local bus to the village of Las Trancas or Hotel Termas de Chillan. Schedule and prices here (in spanish).
The bus trip takes approximately 6 hours from Santiago's main bus terminal to Chillan using the bus company JAC.
The train takes approximately 5.5 hours. The train departs from the Estacion Central in Santiago center where you can buy tickets directly at the counter. To book in advance, you can do so online, but you will need to be pretty good with Spanish.
Driving From Santiago to Nevados de Chillan
Additionally, it is no problem to organize a private car rental from either the Santiago airport or city center. From there, the ski center is roughly a 6-7 hour drive to the south. Take Ruta 5 Sur, the main highway that allows speeds as fast as 75mph (120 kmh). From Ruta 5, visitors should take the turn-off at Chillan and then follow the road signs to Ruta 55 which will lead them through Pinto and the Valle Las Trancas to Nevados de Chillan. Navigating through the old city of Chillan can be confusing, but with GPS, it should not be too difficult to figure out.
There are numerous and relatively expensive tolls on Ruta 5 that visitors should be aware of.  Most accept credit cards, but you should always have some Chilean pesos on hand.
Also, road conditions, weather conditions, day of the week, and time of the day will change the length of the trip, so visitors should plan accordingly.
Las Trancas to the Ski Resort
If you are staying in the village of Las Trancas, getting to the mountain is not too far away. To get from Las Trancas to the ski hill, simply follow the road signs to Nevados de Chillan. The resort is only 7 km away, and the trip will rarely take longer than 30 minutes.
However, do keep in mind this road often collapses with traffic especially during the holiday season in July, long weekends and after any snow storm. Be prepared, carry chains and realize that what often takes 20-30 minutes can quickly turn into a much longer journey. Solution? Stay at one of the ski in ski out hotels at the resort and avoid the daily drive from Las Trancas.
Hitchhiking
Hitching a ride up to the mountains is not that difficult from any location along the main road in Las Trancas. On weekends and July holiday you will be competing with a lot of locals and gringos. During the slower mid-week days, there maybe be very little traffic to the resort, so you need to be patient.
At the Las Trancas police station, there is often a traffic stop for snow-chains. The local police, called Carabineros, are very friendly and will often encourage drivers to give you a ride to the resort. 
Chile Snow Adventure
Backcountry tour exploring Nevados de Chillan and other off the radar gems in South Chile