Chile Ski Packages: Ski Resort Vacations to Portillo, Valle Nevado and Chillan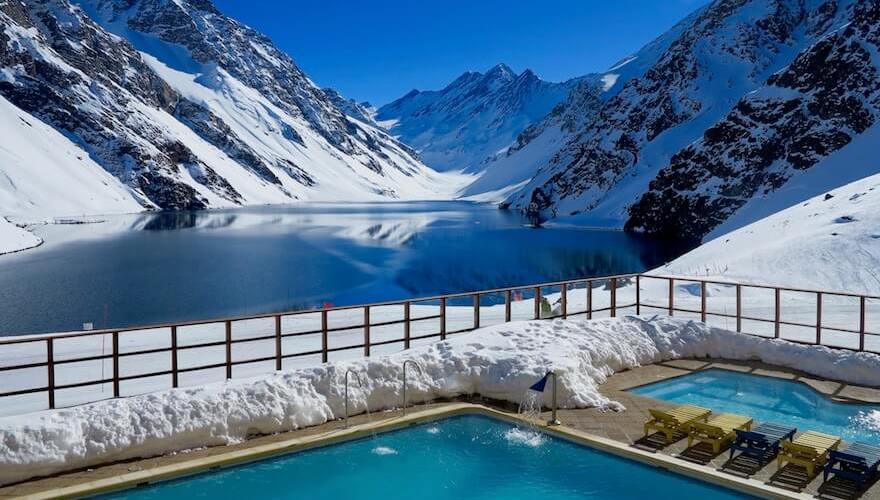 PowderQuest Tours specializes in custom designed Chile ski packages and snowboard vacation reservations to the best ski resorts in Chile. With 2 decades of experience, we offer you bespoke holiday ski packages with a hand picked selection of comfortable lodges and ski resort hotels in the beautiful Andes Mountains.
Top Chile Ski Vacation Packages
Escape the mosquitos this summer and head to winter in South America and the stunning Chilean Andes ski resort hotels. Portillo, Valle Nevado and Nevados de Chillan ski resorts are famous for captivating vistas, local culture and unrivaled powder skiing and snowboarding July to September.
Let's get started. Book your Chile skiing package or get a free ski vacation quote from our experienced team.
Portillo Ski Vacation Packages
Legendary Hotel Portillo, Chile turns 72 this year. Come celebrate in style in one of the 3 ski lodges. Imagine skiing dry powder, feasting like royalty while soaking up the mesmerizing landscape of the high Chilean Andes Mountains.
Packages starting at $176/night
Valle Nevado Vacation Packages
One of Chile's most popular ski destinations, Valle Nevado's 3 hotels offer guests near ski-in/ski-out access to fun terrain for all ability levels. When linked with neighboring resorts, you are now in Chile's largest skiable domain.
Packages starting at $200/night
Nevados de Chillan Ski Packages
Located in Southern Chile, at the base of Volcano Chillan, the resort features 2 comfortable ski-in/ski-out hotels, natural hot springs and one of Chile's deepest snowpacks.
Packages starting at $160/night