Ski Portillo Chile: The Definitive Ski Resort Guide for 2020
This detailed destination guide will help you learn everything you need to know about skiing the famous Ski Portillo Resort in Chile. 
The best part? Everything here is focused on making it happen in 2020.
If a Portillo ski trip is in your plans, you are in the right place. Let's drop right in.
Welcome to Portillo Ski Resort:
A Chilean Icon 2 Miles Above The Pacific
Ski Portillo will celebrate its 71st Anniversary in 2020 as one of the world's most iconic and well-loved ski resorts, famous for its sunny yellow lodge and location perched above the stunning Inca Lake in the heart of the Andes.
The resort is located about 2 hours northeast of Santiago and is run as a multiday, package-based resort with a maximum of 450 guests, so runs are uncrowded and lift lines non-existent.
What makes Portillo especially likable is its exclusive resort experience and the camaraderie that develops over days between guests, many of whom make a pilgrimage to Portillo every year.
The terrain at Portillo, while smaller than other Chilean resorts, is above tree line and wide-open, and so steep in many parts that surface lifts (called va et vient) were specially developed to avoid being taken out by avalanches.
The lodge has never lost its old-world ambiance, with its leather-paneled bar, its grand dining room staffed by a fleet of red-clad waiters, and its antique living room that opens toward a wall of panoramic windows facing one of the most spectacular alpine views of any ski resort, anywhere.
The resort is owned by the American-Chilean Purcell family, who for decades have seen many a VIP pass through the hotel's halls, from World Cup winners to super models to Argentine polo players to billionaire Brazilian bankers, and other characters you'd seemingly only meet at Portillo.
Like Valle Nevado to the south, many of the world's top skiers including World Cup teams come to the resort every summer to train.
In 2020, Portillo plans to open from June 20 until October 3. If the snow conditions cooperate the resort can open earlier and/or close later.
Portillo's Skiable Terrain: What to Expect at Chile's Steepest Ski Resort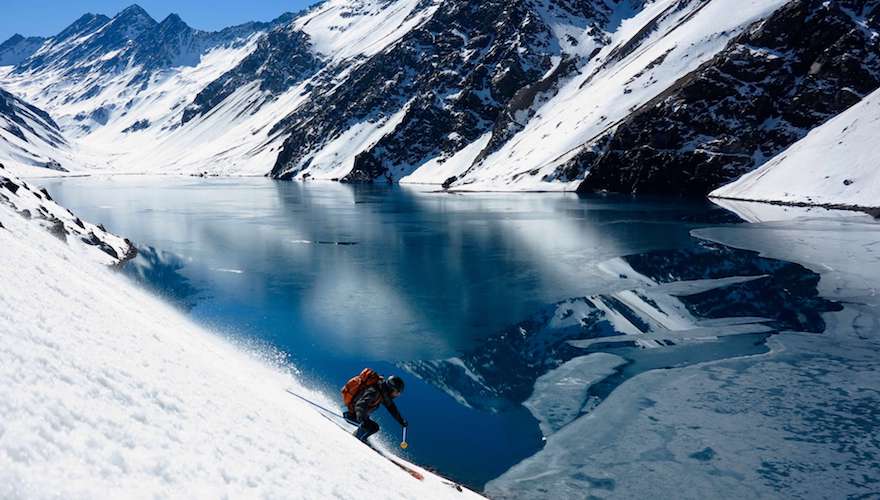 Like all Chile's Central Region ski resorts, Portillo is entirely above tree line and skis larger than it first looks due to its wide-open terrain and altitude, which can at first warp your perception of the resort's size.
This said, Portillo is inarguably smaller than most North American resorts, and while expert skiers can find enough to keep them pumped all week, beginners and intermediates have less on offer, especially if the snow is thin.
Terrain – Freestyle
Portillo ski area does not have a terrain park, but the resort does offer some fun natural features to hit throughout. If you are looking for a destination with more of a freestyle focus, we suggest checking out El Colorado, located near Santiago.
Terrain – Experts

The resort's advanced and expert ski runs are legendary. Skiers and snowboarders can reach steep terrain directly via a lift, or traverse to runs such as the powdery Primavera Run or the Lake Run, the latter requiring a return trip traversing along the lake shore or, if frozen, across the lake itself.
The run known as Kilometro Lanzado is where the 200km speed barrier was first broken by Steve McKinney.
When it snows, the ski patrol normally leaves a few of its most popular runs, including Garganta and Condor ungroomed so skiers can lap multiple powder runs.
Off-piste and challenging backcountry areas include hiking the "Super C" (read more in the next chapter) and other steep chutes above the Inca Lake.
Heliskiing in Portillo
Portillo offers heli-skiing directly from the resort and is available for an additional price, led by seasoned, qualified guides. If you have the budget, we recommend considering at least a half-day heli-skiing, for the rugged Andean views as much as the incredible powder you'll be talking about for weeks to come.
Note for snowboarders: Snowboarding in Portillo is better suited for big mountain freeriders than those looking for easily accessed groomed runs or a terrain park (there is no park at Portillo). Traversing on this mountain is more difficult for snowboarders due to distance and exposed rocks that can hinder a traverse, also the return trip from the Lake Run along a narrow path or over the lake itself can be challenging and exhausting.
Terrain – Intermediates & Beginners

There are well-groomed runs for skiers and snowboarders at the advanced-intermediate and beginner levels, including El Conejo, Las Lomas, Canarios, Juncalillo, Bajada del Tren and a new run opened in 2018, called El Gaucho.
This said, the resort excels at advanced to expert terrain and can seem a bit lacking for the more intermediate skier or snowboarder spending a week at the resort.
World Class Ski School
We recommend signing up for a ski class or private lessons and taking advantage of the resort's world-renowned ski school to hone your skills.
Kids will love the ski camps and private lessons. Some of the top ski instructors from around the planet migrate to Portillo each season to teach.
What to do if not skiing
Non-skiers can certainly find enough to do over a a few days, but a lack of an actual town and fewer amenities and walking areas than other South American resorts mean there is a lot less to do at Portillo for a non-skier than at a typical North American or European ski resort.
A gift shop, spa and fitness center, yoga, hair salon, outdoor pool and Jacuzzi, cinema and snowshoe rentals are the main activities here beyond skiing and dining. The socializing scene here is a lot of fun and you are sure to meet a lot of great people during your stay.
Skiing the Legendary "Super C" Couloir
The legendary Super C is one of the world's greatest couloirs, accessed by a heart-pounding and often grueling hike to access a steep, aesthetically beautiful, rock-walled powder run that ends on a wide-open apron. The reward? 5,200 vertical feet of skiing.
A decade ago, the Super C was only known (and climbed) by a handful of big-name skiers and snowboarders and others who consider the Super C to be one of the skiing world's most iconic bucket-list ski adventures.
The hike also rewards with spectacular views of Mt. Aconcagua, the highest peak in the western hemisphere, and more than a dozen massive peaks rising above 20,000 feet in altitude.
You need to check your own ability level, too. This is a backcountry hike that should only be undertaken by expert-level skiers with previous experience in backcountry terrain and safety, and those who carry all safety gear such as a beacon, shovel and probe. Boot crampons and an ice axe should be carried as well.
The hike can take 4 hours depending on snow conditions, and it involves crossing a few harrowing no-fall zones and thin air due to high altitudes. You must always check conditions with Portillo ski patrol and advise them if you plan to hike the Super C. This is very important.
Weather and Snow Conditions
For updated weather conditions and snow reports in Portillo, including the state of the road opening/closing use the following resources:
Road conditions and updated snow reports call the Hotel Portillo directly (56-2) 2361-7000
If you plan on crossing over to Argentina via the nearby Paso Los Libertadores, updated pass conditions are updated in Spanish on Twitter
For snow updates, pictures and videos during the season (July-September) follow PowderQuest on Instagram
Snow Forecast for Portillo This Week
New Snow Fall
For new snow accumulation estimates over the next 12hrs, 24hrs, 3-5 days and long term 10 day forecast use the Windy Portillo map widget:
Expanded Snow Making
In 2019, Portillo invested US$ 3.5 Million dollars in an expanded snowmaking system. 25 new snow machines will provide snow coverage to 25 acres of skiable terrain. They claim to have purchased one of the most environmentally friendly snow making systems available.
Location: 102 miles from Santiago near the Los Libertadores Pass to Argentina
Elevation: 2,510m (8,240ft) to 3,350m (10,985ft)
Vertical Drop: 835m (2,745ft)
Inbound Terrain: 36 Runs
15% Beginner, 30% Intermediate, 30% Advanced, 25% Expert
Ski Lifts: 14
Hotels and Lodging: Hotel Portillo, Octagon Lodge, and Inca Lodge 
Off-Piste and Backcountry Access: Good
Heli-ski: Yes, Bell B3 Helicopter. Priority goes to Portillo hotel guests
Average Annual Snowfall:  296 inches (740 cms)
Weather: 80% sunny days and dry powder due to elevation
Ski Season: June to October
Ski and Snowboard Park: No
Night Life: 2 bars and a disco open nightly
How to Get to Portillo, Chile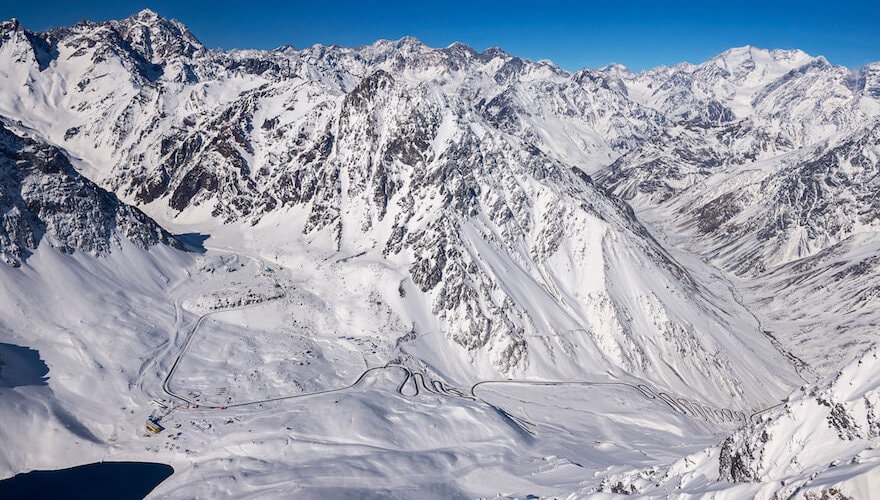 The Portillo resort complex is 102 miles from Santiago (164km) and is situated high in the craggy Andes in the vicinity of Cerro Aconcagua, a mere 3 miles (5 km) from the Argentine border. The resort can be reached in 2 hours and some change via a modern highway, followed by a progression of switchbacks frequented by long-haul truckers carrying goods to Argentina and beyond. The closest town is Los Andes at 40 miles (63 km) to the west. The road will shut during heavy snowstorms, so be prepared for this.
Arriving Via Private vehicle service: PowderQuest includes private shuttles with professional drivers from both the airport or your hotel in Santiago when booking a 3- to 7-night stay with us to Portillo. English-speaking drivers are available upon request.
By Bus: The most economical way to get to Portillo is via bus. There are several services offered from Santiago and Los Andes in Chile and from Mendoza in Argentina. A bit of a travel hack ia involved and speaking Spanish really helps. Basically there is not direct bus service to Portillo. You need to purchase a bus ticket from Santiago to Mendoza or vice versa followed by making sure the driver is willing to stop and let you off on the highway in front of the resort. Try Turbus, Andesmar or Cata Internacional at the main bus station in Santiago or Mendoza.
Rent a car: If renting a car, remember that your vehicle will sit in the parking lot for several nights or a week, so it may not be worth it. If you are visiting several areas during your stay or plan to continue on to Mendoza, Argentina then a rental might make sense. Just keep in mind gas is expensive, the roads are not easy, and you will need to carry snow chains, even during a dry period.
Helicopter: Helicopter service to Portillo is the fastest way to get to the resort, however you'll need to send your luggage up the mountain in a vehicle. Heli service leaves from the Santiago airport and a few rooftop landing pads in Santiago. When booking a Portillo package with PowderQuest we can arrange this custom service.
Day Trips to Ski Portillo
At just under 2½ hours from Santiago, Portillo can be skied for the day if you plan to leave very early and return late to avoid traffic during rush hour in Santiago.
Travelers can rent their own vehicle and drive to the resort, keeping in mind that weather conditions can increase the amount of driving time, and that when snowing the carabineros (police) at the base of the road to Portillo could require that you carry chains. Once you pass the police checkpoint, there is a toll plaza; let them know that you are going to ski Portillo to avoid having to pay the toll.
Snowboard and Ski Rentals
Portillo rents high-quality ski and snowboard gear at the resort for day visitors. It is advised to call ahead to make sure they have a good selection for the day you plan on skiing.
Portillo Day Lift Tickets
Lift tickets average (according to exchange rates) USD $70 for adults during high season (weekends, holidays, and dates between early July and mid August); and USD $50 for adults during low season. We update lift ticket rates here.
If snow conditions are not optimum, be sure to call ahead to see if Portillo is open to day visitors as poor conditions may cause management to shut the resort to day visitors in order to give hotel guests full access to the slopes.
What Else Should I Know About Portillo?
Finally here are some important things to know before booking your trip.
Is This Resort For Me?
Portillo is not for everyone. Many skiers refer to the resort as a "cruise ship in the sky," and the reference is not that far removed from reality. The weeklong stay requirement (during busy periods) and the lack of a village can make the hotel feel claustrophobic for some, especially non-skiers, and dining takes place in the same restaurant every night.
To encourage sociability, there are no televisions in guest rooms; instead guests spend après ski soaking in one of the hotel's outdoor heated pools or sipping a pisco sour in the old-world bar. Guests are expected to dress for dinner and therefore evening meals take on a whole life of their own.
When to Go
During the South American holidays in July, Portillo sees a lot of young children, whose parents love the resort for its kid-friendly activities and closed environment within the hotel; but it can be overwhelming for adult travelers.
For North Americans, August is the ideal time to come both for the more adult-oriented ambiance and a better chance of powder, also for the resort's two Wine Weeks and other special weeks such as Friends Week. 
Tio Bob's On-Slope Dining 
One of the best on-slope restaurants of any international resort, Tio Bob's is legendary for its sweeping Andean views and animated, convivial ambiance where old friends meet, new friends are made, wine is spilled, and many a skier opts to call it a day after a late lunch.
Perched high above the Laguna del Inca, Tio Bob's is low-slung and rustic, built of wood and stone and serving grilled meat and fish, salads, and hearty burgers to hungry skiers, many of whom consider the ski lifestyle as important as skiing itself and the reason why lunch here can stretch out for hours. Come to fill up, converse, soak up the sun, and savor one of the most dramatic panoramic views of any ski resort restaurant, anywhere.
Portillo Ski Vacation Packages and Hotel Reservations
Holiday Package Inclusions
Snowboard and ski vacation packages to Portillo include accommodations, lift tickets, 4 meals daily (breakfast, lunch, tea time, dinners), access to their entertainment and fitness centers, outdoor heated pool, Jacuzzi, sauna, yoga classes, aerobic classes, rock climbing wall, cinema, free WIFI and more.
We can also include shared or private transportation with your choice of English or Spanish speaking driver.
7 night packages Saturday to Saturday only
4 night "mini week" packages Wednesday to Saturday only
3 night "mini week" packages Saturday to Wednesday only
Only 7 night stays are available between July 4-August 21, 2020
Portillo Mini Weeks: Limited Dates
Mini week stays of 3 to 4 nights are limited with select dates. We highly suggest booking these in advance.
Children Stay Free
Children under 4 stay for free in Portillo. During certain periods, kids ages 4-11 stay free when lodging with an adult. 
Where to Stay
We offer you 3 lodging options for your stay in Portillo. From stylish and classic Hotel Portillo to budget bare-bones options for the ski bum. Hotel Portillo is the central spot for all activities and direct access to the fitness center and outdoor pools, bars and restaurants.
Hotel Portillo
The famous bright yellow Hotel Portillo is ski-in, ski-out, and the central lodging option for guests. With 123 rooms, there are simple doubles, "6th Floor" deluxe doubles with terraces, and several suites with panoramic views. Family apartments are available with a double and bunkroom combo, and there are rooms with connecting doors for parents with kids. 
Lake view rooms boast spectacular vistas across the Inca Lagoon. Valley rooms, as the name indicates, face across the parking area into the valley. All Lake View, Valley View and Family apartments have recently been renovated with a clean, sophisticated décor.
Low season starting at $343/night
Regular season starting at $500/night
High season starting at $579/night
per person based on double room, private bath
Octagon Lodge
This comfortable bunk-style ski lodge is popular with groups of friends (2-4) who are unfussy and looking for a cozy, economical option with a private bathroom. The hotel is only a 30-second walk across snow to the main hotel and is for all intents and purposes ski-in, ski-out. Dining is in the Hotel Portillo's main dining room.
Low season starting at $236/night
Regular season starting at $293/night
High season starting at $310/night
per person based on 4 person room, private bath
Inca Lodge
This is Portillo's version of a youth hostel, frequented by budget travelers and younger skiers and riders. The bare-bones rooms are very small, much like a ship, and are fitted with two bunks for a total of 4 beds. The bathroom is communal, and meals are taken at the self-service cafeteria and not the main hotel restaurant.
Low season starting at $170/night
Regular season starting at $184/night
High season starting at $200/night
per person based on four guests per room, shared bath
Portillo Done Differently
3-7 nights in Portillo not your thing? Join us for a week of guided day trips visiting Portillo and other select Chilean Resorts.