Skiing in Chile:
Ultimate Guide for 2020
This guide will help you learn about skiing in Chile in record time. 
The best part? Everything here applies to making it happen in 2020, including suggested top ski resort reservations and select guided ski tours.
In other words: you don't need to worry about reading out of date info on the best Chile ski resorts and backcountry destinations…and there is a lot of it out there!
If a ski trip to Chile is in your plans, you are in the right place. Let's drop right in.
Welcome to Chile:
A String Bean in The Andes
Chile is the world's narrowest country and home to a breathtaking diversity of landscapes that has established the country as one of the world's top outdoor adventure destinations.
The string-bean nation is squeezed between the snowcapped peaks of the Andes Mountains and 3,000 miles of Pacific Ocean coastline, with a Mars-like desert in the north and the windswept Patagonia wilderness in the south. In between, the country overflows with volcanoes, rushing rivers, lush temperate rainforest and fjords, fertile valleys and vineyards galore.
Chile is also a paradise for skiers and snowboarders. Far from being a novelty, heading south to Chile during the hot summer months of the Northern Hemisphere is considered by many skiers to be a rite of passage to experience the mammoth Andes terrain, where lift lines are the exception, not the norm.
Escape the Summer heat wave but don't get skunked. In this chapter, we'll cover the best time to ski Chile. Discover when to visit the resorts and extensive backcountry during the upcoming Chile ski season. 
You'll also learn about the weather to expect while you're traveling.
Chile's Ski Season: When to Go
You've heard about the Endless Winter? Don't pack the gear away after that bucket list Japan ski tour. Chile's reverse seasons let you keep your skis and board waxed from June to October, and for some in the hottest US regions, winter in Chile is a refreshing antidote from the scorching summer heat. School vacations free up kids and give parents more flexibility with family travel planning.
The best time to ski Chile's resorts is mid-July until early September. Early-season winter storms in late May and June can allow for last-minute trip planning to really get the goods in June. To play it safe however it is best to book mid-July and on.
Skiing in July
High season at ski resorts corresponds with South American school holidays, normally the middle two weeks of July. Expect higher prices during this time. The holiday crowds taper off near the end of the month.
Skiing in August
Pro skiers and snowboarders and national ski teams from the US and Europe head en masse to Chile from August until mid-September to train and build up their social media content, and it's common to end up sitting on a chairlift or have dinner next to the best skiers and riders in the world. Chile is without a doubt the ski and snowboard "summer camp" for the world's best.
Skiing Chile in August is generally the best time to ski powder and should be on everyone's "bucket list".
September to October
Early to mid-September generally serves up fantastic conditions, but do keep in mind some seasons, early September can quickly accelerate into spring. Resorts tend to close for the ski season between the September 18 & 19 Independence holidays and mid-October, depending on snow conditions and local demand.
Best Time for Backcountry Ski Touring + Splitboarding in Chile
When it comes to backcountry touring in Chile, few countries can compare to the country's variety of terrain, ease of access and sweeping views that often span from Argentina to the Pacific Ocean. In the Lake District, you can ski tour up active and inactive snow-covered volcanoes and end the day in one of a myriad of natural hot springs (locally known as "termas").
Resort accessed backcountry ski touring and splitboarding in Chile is best in August to mid-September for deeper snow bases, better chances of hitting the snowstorms rolling off the Pacific, and longer weather windows to enjoy all those bluebird powder days.
From mid-September to late October, expect more daylight hours, corn snow and south facing powder. Yep, south facing! As the main resorts begin to shut down around Santiago, this time of year is where Southern Chile really shines.  Laid back ski resorts on smoking, snow-hammered volcanoes are perfect gateways for human-powered snow adventures.  Looking to extend the ski season in Chile?  Backcountry touring is your answer.
We'll cover more on these areas offering backcountry access from the lifts in our ski resort chapter below.
What to Expect With
Winter Weather in Chile
Climatic conditions in Chile during the Southern Hemisphere winter vary considerably depending on where you are skiing or traveling. Like most mountain travel, expect a bit of everything in The Chilean Andes.
Let's break it down, north to south.
Snow and Weather in Central Chile
Around the Central Chilean Andes region (Valle Nevado, La Parva, El Colorado, Portillo, and Ski Arpa resorts), snow begins falling generally in late April to May. On wetter seasons, common during El Nino cycles, enough May snow will often be suffice for early resort openings. On drier winters, the snow might not arrive until mid to late June.
From June to September, expect pounding snowstorms with very dry snow (think Utah), followed by extended periods of bluebird skies and a range of cool to mild temperatures for most of Chile's winter.
Overcast days are the exception, not the norm. A thinner ozone layer and high altitudes make for intense sun so always wear sunscreen when outdoors. When it does go cloudy, expect temperatures to cool off very quickly.
Moderate to strong winds are part of the soul of The Andes.
Off the Mountain
In Santiago and around the Central Valley expect winter temperatures to average 30-40F lows and 60-65F highs, with September temperatures turning spring-like and mild but dropping unexpectedly when a storm rolls through. You can often ski knee-deep powder in the morning and wear flip-flops down in the valley in the afternoon.  Your feet will thank you!
Snow and Weather in Southern Chile
From May to late October, expect a good amount of snow in the mountains (although not as dry as Central Chile's snow…think Whistler). Rain is common at lower elevations during the winter months, with highs in the 50s and lows in the 20s (F). Be sure to bring your Goretex outerwear and waterproof shoes suitable for rain, mud and deep snow.
The sun does not make many appearances this time of year, but when she does shine, you might find yourself thinking Patagonia is one of the most stunning places on Earth.
The volcanoes and upper Patagonian peaks of southern Chile experience massive accumulation of snow + wind from low pressure storms rolling off the Pacific.
Getting to Chile is Easier Than You Think
Now that you have learned more about weather and the snow in Chile let's cover getting there. Travel to Chile is surprisingly easy and we break it all down here.
Before we dig deeper on how to get to Chile, let's briefly touch where it is located on the map.
Chile runs the southwestern length of South America, bordered by Argentina, Bolivia and Peru. The nation's capital Santiago is 10 ½ hours from New York, 8 hours from Miami, and 9 hours from Dallas.
All international flights arrive to Santiago's Aeropuerto Internacional Comodoro Arturo Merino Benítez (airport code: SCL). The ski resorts Valle Nevado, La Parva, El Colorado, Portillo and Ski Arpa can all be accessed in 90 minutes to 2 hours by vehicle.
For southern ski destinations such as Nevados de Chillan, Corralco, Pucon and Antillanca, travelers can catch a domestic flight to Concepción, Temuco or Puerto Montt.  Flight times range 1-2 hours depending on your destination. LATAM and the low-cost airline, Sky are the 2 main airlines.
Another option is to take an overnight sleeper bus with fully reclining seats from downtown Santiago or the neighborhoods Vitacura or Las Condes. Check out Turbus, JAC and Pullman for tickets at the bus station. 
Chile's extensive bus network is a great way to travel longer distances and coaches come in a variety of classes from cheap to near luxury.  Travel time is 10-12 hours and we break this down in more detail on each ski resort destination guide.
From North America
EST time zone means little to no jet lag for North Americans. A great place to start searching for airfare to Chile is on Google Flights.
There are nonstop flights from New York, Miami, Atlanta, Dallas, Houston, and Los Angeles (with LAX, some flights are direct and others stop in Lima, Peru).
American, Delta, United and LATAM all fly to Chile, and Air Canada direct from Toronto. Low-cost flights especially from secondary cities in the US can be found on Copa Airlines and Aeroméxico, with stopovers in Panama City and Mexico City, respectively.
From Australia / New Zealand
There is nonstop service on Qantas from Sydney and Melbourne, and direct service from Auckland on Qantas or LATAM. Qantas operates on a code share with LATAM.
From Europe
There are nonstop flights to Santiago from London (British Airways), Madrid (LATAM and Iberia), and Paris (Air France).
Airport Transportation to Santiago Hotels
From the airport, always pre-plan an airport transfer service or book a taxi or shuttle with an official company (Transvip is one of the better options offering private and shared ride options) located just outside the customs area but before entering the main arrival area. 
Warning: Do not accept a taxi ride from one of the pesty "freelancers" that clog the arrival area, as there have been many reports of price gauging or theft.
When you start your journey home, if taking Uber to the airport, they will drive you to the car park and you'll need to walk a couple of minutes to the terminal entrance.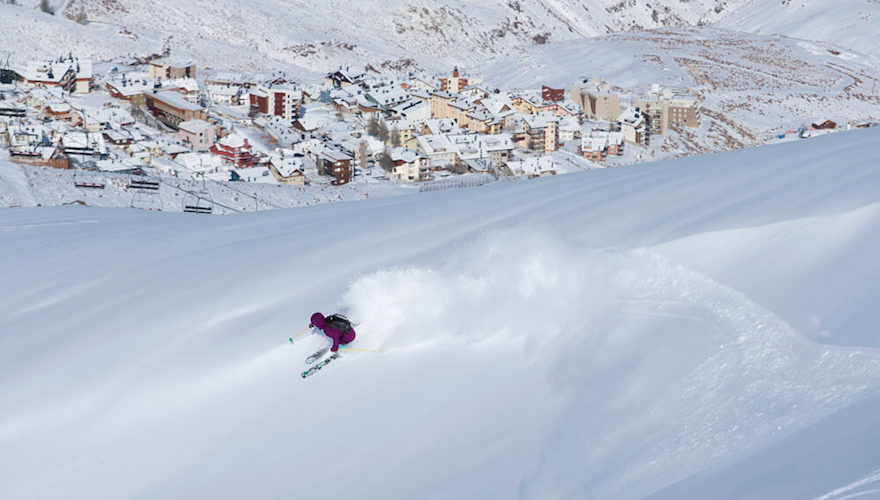 There are over a dozen ski resorts in Chile found along the mighty Andes Mountain range stretching from just north of the capital city of Santiago all the way south, deep into mystical Patagonia.
Ski areas such as Portillo and Valle Nevado enjoy international fame but there are many smaller resorts whose laid-back vibe and stunning natural beauty make them worthy of visiting on a guided tour or on your own.
Cost of Day Lift Tickets
Most ski resort packages bundled with lodging are priced in US dollars, but daily lift tickets are priced in Chilean pesos, so the USD cost of a lift ticket depends on the exchange rate for that day. Expect a wide range of prices from USD $50 to $80 for an adult day ticket depending on the resort, day of the week and month. See our Lift ticket price list.
Day Skiing From Santiago…is it worth it?
For lift ticket deals, check the resort's website for weekday deals and 2×1 low-season deals. Valle Nevado is the only resort in South America that is a member of both the Mountain Collective and Ikon Pass which can be used for free lift tickets depending on the pass level. Also check out Liftopia which offers discounted tickets to some Chilean resorts with the only caveat that the ticket is date-specific and "use or lose."
The Three Valleys resorts — Valle Nevado, La Parva, and El Colorado collectively — sit directly above Santiago and can be reached in under 90 minutes when traffic is light and roads are clear.
Despite a nail-biting corkscrew road and an altitude jump of more than 8,000 feet, many Santiago locals and visiting skiers and riders opt for a day trip to escape Santiago and spend a day skiing in the Andes.
Our honest opinion on ski based day trips from Santiago? Don't do it unless it is your only option.
This especially applies to weekends or holidays. Simply put, it is a huge trip for just one day. The transfer companies running shuttles up to the resorts from the city are very inconsistent when it comes to reliability and service and any weather can further extend your time in the road.
So what are your alternatives when skiing Santiago?
Stay in the mountains. Between the ski village of Farellones, the condos of La Parva and El Colorado, to the 3 main hotels of Valle Nevado you have plenty of good options to fit different travel budgets.
That being said, there are a few "hacks" to avoid the typical Santiago ski day trip headaches:
If you have access to an all wheel drive vehicle with good tires and are comfortable driving in winter conditions, get an early start (before 7:00am) and you can beat most traffic. You will need an international drivers license. Snow chains are required to carry even during dry spells. Explore our individual resort destination guides for details on how to get there.
Skiers and riders with the budget of $1300-1400 (this can be split between 5 passengers) can jump on a helicopter and get to Valle Nevado's heli-pad in 15 minutes from the Tobalaba Aerodrome or the top of the Millennium building in Las Condes, either to ski the resort for the day or go heli-skiing. La Parva also has a heli-pad.
Spending some time in Santiago? Check out a few of our favorite recommended places to see and explore around the city. Discover Santiago >
The Best Ski Resorts in Chile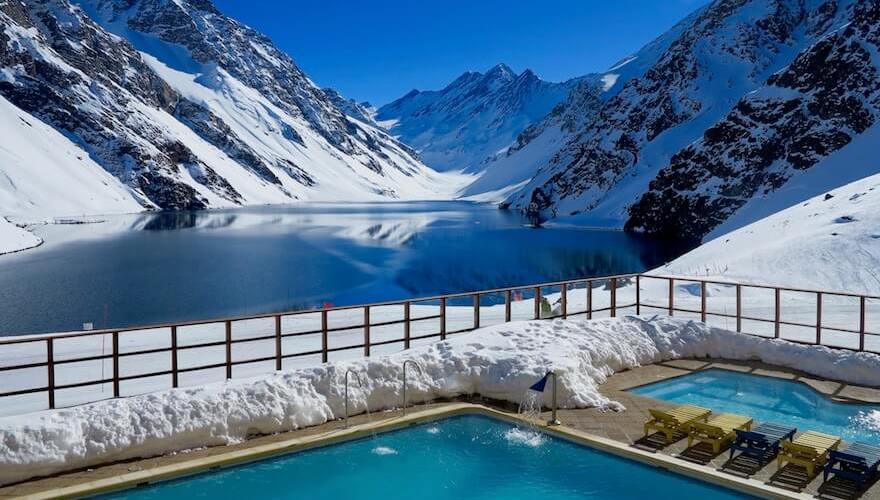 Here we break down a list of the top Chilean ski resorts along with highlights of each destination. We provide a link to each so you can dive deeper into researching the resort.
Tip: Snowboarders will also want to see our exclusive guide to snowboarding in Chile.
Most skiers have heard of Portillo resort given its long history, however there are other ski resorts and destinations that should be part of your "bucket list."
Rinky-dink ski resorts with one or two lifts dot the Andes but resorts such as Portillo, Valle Nevado, La Parva, El Colorado, Nevados de Chillan, and Corralco offer a range of decent to very modern chairlifts, comfortable accommodation options for all budgets, and great dining.
Let's explore…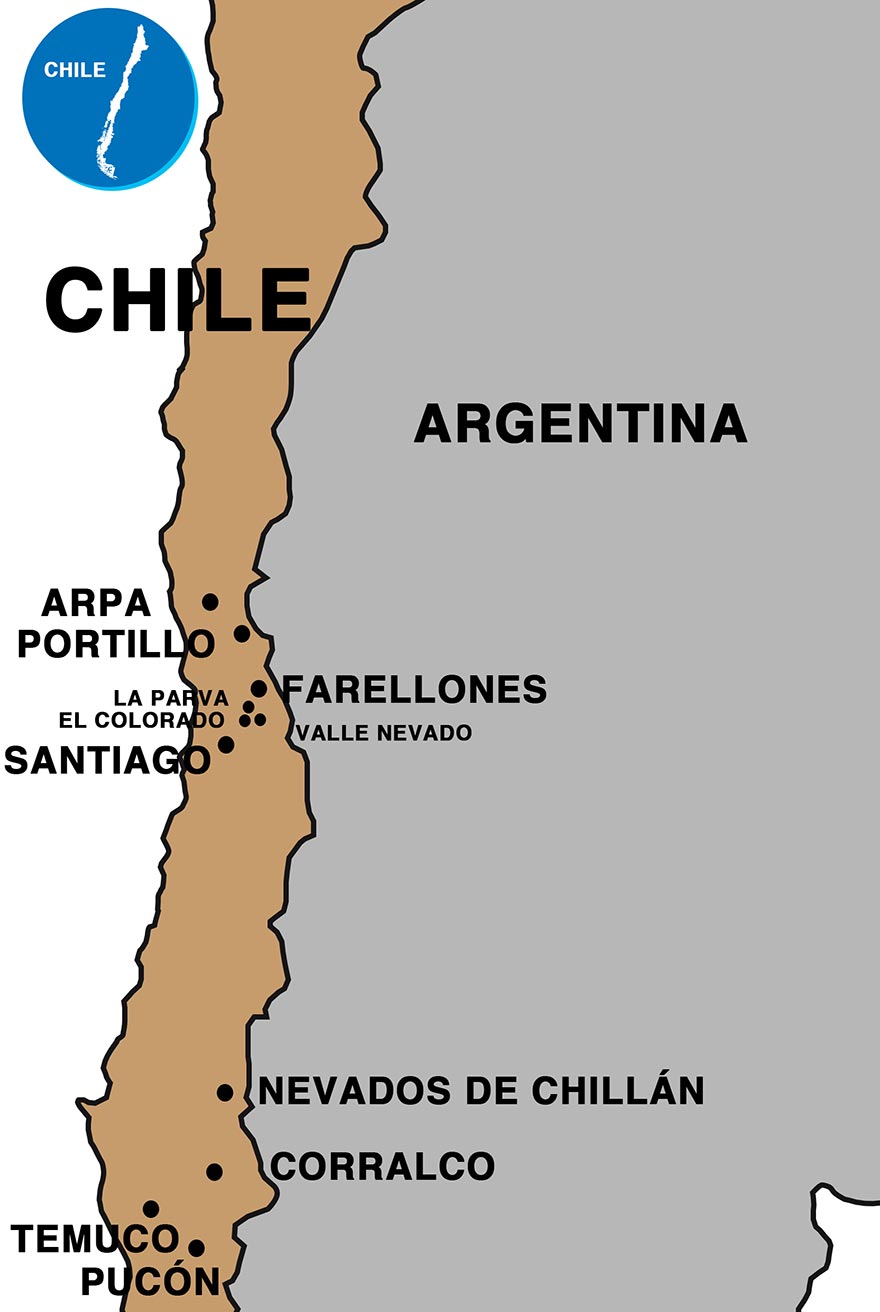 Ski Portillo: 7 Decades of Skiing Tradition
Celebrating 71 years in 2020, world-famous Ski Portillo is a throwback to a more relaxed era of skiing, centered around the sunny-yellow iconic Hotel Portillo and fronting the shimmering Inca Lake. Known for its steeps, "cruise-ship-in-the-sky" friendly ambiance, old-world architecture and as a weeklong, package-driven resort that draws return guests year after year, Ski Portillo also draws international ski teams and a host of who's-who during August.
No town, just one hotel and two more economical annexes
Owner-operated by the American-born Purcell family
Popular Wine Week festivals
Only resort with slingshot lifts, which drag skiers up to the top of runs such as the famous Roca Jack
Hike-accessed "Super C" one of the most iconic runs in the world
Better for skiers than snowboarders
Terrain 100% above tree line
Valle Nevado: Chile's Most Modern Ski Destination
Valle Nevado is Chile's most modern ski resort, with an upscale infrastructure and plenty of lodging, shopping and dining options. The resort is close to Santiago and totally above treeline, with well-groomed slopes and an abundance of off-piste gullies and rollers that gives the feel of a natural terrain park. With all this, the mountain skis bigger than even its 44 runs suggest.
Chile's only high-speed quad and gondola
Highest rated resort based heli-skiing in South America
International atmosphere and summer training grounds for national ski teams from Austria to Norway to the USA
Part of the Mountain Collective and Ikon passes
Interconnect lift ticket opens a massive 7,000 acres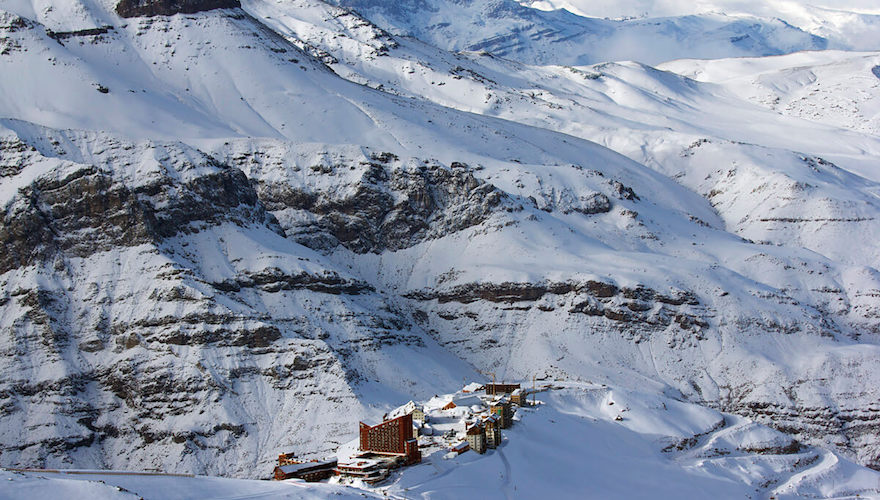 La Parva: Packing an Alpine Punch
The smallest of the Three Valleys resorts caters mainly to upscale locals from Santiago, but with nearly 1km of vertical descent and a solid amount of terrain for advanced/expert skiers this resort packs a punch. The "village" is a cluster of privately owned condominiums and a handful of shops and restaurants, but most visitors to La Parva dine in and keep to themselves once off the slopes.
The most extensive Andean backcountry options of the three resorts
Within the resort, wide-open terrain and some very fast groomers
Plenty of fun off-piste skiing and unique terrain features
Like Valle Nevado, La Parva offers heli-skiing deep into the Andes (but more difficult to book in advance)
El Colorado: More Than Meets The Eye
Connected to the mountain village Farellones, El Colorado ski resort is closest to Santiago and very popular with Chileans. The cone-shaped mountain is often the first to open (as early as May) but the first to close too. While the area has plenty of easier terrain and loads of other activities like tubing, and a raucous après ski and nightlife, there is more than meets the eye.  El Colorado accesses some of the best expert terrain in all of Chile, if you know where you are going.
Beloved for its access to Santa Teresita (which requires vehicle transportation to get back)
Growing terrain park and expanded terrain has recently increased the resort's ski and snowboard offer
Best variety of lodging of any Central Andes resort, from cozy lodges to private homes
Best nightlife of the Three Valleys thanks to the bars and clubs of Farellones
Nevados de Chillan: Tree Skiing + Backcountry + Hot Springs
Located in Chile's southern region and reached via a 6-hour drive or a short flight to Concepcion, Nevados de Chillan is spread across the skirt of an active volcano and is one of the few resorts in Chile with tree skiing and hot springs. Resort-based ski-in/ski-out lodging as well as a sundry of lodging and dining options in nearby Las Trancas, Nevados is rustic but more than makes up for it with its highly varied terrain and abundance of touring options.
Powder playground
Southern location offers partial tree skiing unlike resorts closer to Santiago
Massive backcountry and side country touring opportunities, as well as cat skiing
Spread below a smoking volcano 
Known for its termas or hot springs and extensive spa
Proximity to village Las Trancas, with more of a local's vibe and plenty of entertaining restaurants and bars
Corralco: Volcano Skiing + Monkey Puzzles
A smaller, Spanish-owned resort with a cozy main lodge, Corralco is located in southern Chile's Malalcahuello area, a magical region replete with prehistoric "monkey puzzle" trees and truly stunning vistas of seven volcanoes from atop the resort's principal peak, the Lonquimay Volcano.
Poised to become a major backcountry destination, with endless open terrain
Beautiful resort to learn to ski and snowboard with a relaxed atmosphere and bilingual instructors, and enough intermediate terrain to enjoy for a few days
Known for hot springs that are great to unwind in after skiing
Backcountry routes can be skied well into November
Ski Arpa: Cat Skiing 12,000 Feet Above The Pacific
Hands down the most uncommon and adventurous ski experience in South America, Arpa is a cat-skiing operation tucked away in the heart of the Andes, owned by an Austrian expat, and sporting phenomenal Andean vistas and a direct view of Mt. Aconcagua. No lifts, no groomed runs, and no accommodation, just a rustic day lodge built into the side of a hill.
4,000 acres of freeriding backcountry bliss
Two Pisten Bully snowcats that each carry 12 skiers and gear to 12,000 feet
Accessed via 4×4 adventure through rural Chile, cactus trees, and an old mining trail
Lodging in the town of Los Andes 1 hour down the hill, or doable as a day trip from Santiago
Our Top Chile Ski Resort Vacation Packages
Chile's solid economy and modern infrastructure give peace of mind to international skiers and snowboarders and a burgeoning food and wine scene have only added to the allure of this unique South American destination.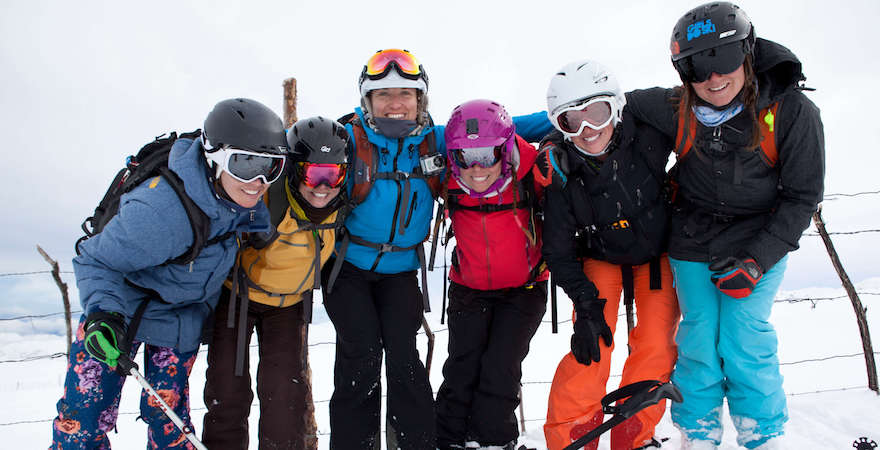 PowderQuest offers over 20 years experience booking Chile ski packages and holidays. We specialize in building custom ski vacations to Valle Nevado, Portillo and Nevados de Chillan ski resorts.
Now that you are more familiar with the world of Chile skiing, let's review some important details and facts you should know before heading to the string-bean nation.
TRAVEL DOCUMENTS
Passports must be valid for at least 90 days following your return date.
IMMIGRATION / CUSTOMS / VISAS
No visa is necessary to enter Chile.  
Upon arrival, officials will issue all travelers a tourist card that you are required to carry with you and show when you leave the country.
The tourist card will also be required to check into hotels and can be used to avoid a 19% IVA tax on lodging when checking out. If you lose your tourist card, you can obtain a new one at the International Police counter in the airport departure entrance at customs.
Australians pay a reciprocity fee of USD $117 to enter the country.
VACCINATIONS & HEALTH
No vaccinations are required or needed to enter Chile. Tap water, while not particularly tasty in some cities, is safe to drink.
Travel health insurance is strongly recommended as U.S. health insurance policies will not directly pay a clinic or hospital bill while in Chile (some policies might reimburse medical costs once you're back home but you're responsible for paying bills upfront). Travel insurance also covers evacuation services for extreme cases.
ELECTRICITY
The electrical current is 220V/50Hz. Chile uses round two-prong (type C) and three-prong (type L) plugs, so bring several adapters as they are easy to lose when traveling.
CURRENCY & BANKING
Chile's currency is the Chilean peso, with colorful bills issued in denominations of $1,000, $2,000, $5,000, $10,000, and $20,000.
Coins are in denominations of 1, 5, 10, 50, 100, and 500 pesos.
The currency code is CLP. Chileans use the term "luca" to denote 1,000 pesos, so for example a 10,000-peso note is commonly called "diez lucas." In 2019, the exchange rate fluctuated between 600 and 720 pesos to the dollar. Check xe.com for current exchange rates.
Banking hours are Mon-Fri, 9am to 2pm; money exchange houses are open Mon-Fri 9am to 6pm, and Sat. 9am to 2pm. ATMs in Chile are plentiful and referred to as a "Redbanc," and they accept most international debit and credit cards. Most ATMs charge a fee but if you have a debit card from select USA banks listed here, these fees may be reimbursed.
Dollars are not accepted in Chile with the exception of hotels, but at a disadvantageous exchange rate.
LANGUAGE
Rapid-fire and slang-heavy Spanish, although basic English is spoken in most tourist areas. Rapa Nui is spoken on Easter Island, and native Mapudungun in the Lake Region among indigenous Mapuche.
CRIME & PERSONAL SAFETY
Chile is the safest country in South America. The kind of violence that exists elsewhere on the continent is almost nonexistent, but vehicle break-ins are common and travelers should never leave valuables in an unattended vehicle even for a few minutes. 
Like most cities around the world, pickpockets are common on the metro and other forms of public transportation, in tourist areas, and on crowded streets, and valuable items such as smart phones should be worn close to the body.
The northern Atacama Desert is home to the clearest skies in the world, with many of the planet's most important observatories such as the ALMA Observatory, the most powerful in the world. It is also the only country with a government-funded UFO research organization.
The Andes Mountains run along 80% of the length of the country, with the widest part being 220 miles and the narrowest just 40 miles wide.
Chile is one of the most geologically turbulent countries with nearly 90 active volcanoes.
Two of Chile's offshore islands were the inspiration for the classic novels Robinson Crusoe and Moby Dick.
Chile is the only country in the world with original European grape rootstocks, having avoided the phylloxera bug that wiped out vineyards in Europe.
Northern Chile is where the oldest mummies in the world were found.
The world's oldest tree, the alerce, can only be found in Chile and can live up to 4,000 years.
Chile produces over a third of the world's copper.
Pro skier and snowboarders flock to Chile to film video edits for their sponsors and social media campaigns. Sage Cattabriga-Alosa teamed up with PowderQuest recently to film "Por Que Esquiar"
During the past decade Chile has received numerous travel awards and recognitions as a leading adventure travel destination known for its unusual wealth of dramatic natural landscapes. As well, travel awards have gone to Chile as a tranquil, peaceful travel destination with an outstanding tourism infrastructure.
Here is a breakdown of recent praises and awards from major media sources.
Lonely Planet's Top Country to Visit in 2018
Lonely Planet recognized Chile as the best country to visit in 2018 due to the extraordinary landscapes that are available there.
For 2019, Lonely Planet listed Chile's Elqui Valley as one of the "Top Ten Best Regions" for 2019, but recommends that visitors spend some time in Chile as they explore both the heat of the Atacama Desert, the wild region of Patagonia, and everywhere in between.
Skiing powder in the Andes in August anyone?
World Travel Awards – Best Adventure Travel Destination in South America
Chile has been awarded the best adventure travel destination in South America since 2015. Yes, 4 years running as of September when it was announced that Chile again placed #1 in 2018.
According to The Wall Street Journal, the World Travel Awards are the Oscars of the tourism industry and anyone that has been to Chile can honestly say that this award is well-deserved. In order to qualify for this award, a country needs to have a large variety of physically challenging adventures that take place in exotic and remote locations, and Chile offers plenty of them within their diverse country.
Top Destinations Lists
A handful of the UK's top media outlets have recognized Chile's natural beauty with accolades. The Independent newspaper named Patagonia in "25 Places You Need to Visit in 2018" and Wanderlust travel magazine named Chile's Lake District in "12 Trips to 2017's New Frontiers."
Forbes magazine listed northern Patagonia as one of "15 Coolest Places to Go in 2018," and The Ethical Travel Organization named Chile #3 in 2017 for their "Best Destinations" list.
Outside's Best International Adventure Hub
Outside Magazine has been ranking adventurous travels for more than four decades now, so they know the best when they see it and experience it.
They have quite a few favorite things about Chile including the wide-open spaces, hiking and sailing adventures, mountain biking, horseback riding, whitewater rafting, snowboarding from June to October, and the opportunity to stay at a retreat in the middle of a vineyard.
Outside also included southern Chile in its "The 2018 Adventure Bucket List".
Chile Done Differently
The ultimate resort + backcountry experience. A mix of guided resort off-piste, snowcat skiing, and day trips to Portillo and Valle Nevado plus hosted dinners with your certified ski guides.