The Best Snowboarding in South America: Freeriders Guide 2022
This is our ultimate freeride guide to snowboarding in South America. 
With 2 decades exploring the best of South America, we will introduce you to what snowboarding in the Andes is all about, then dive deeper linking you to details on riding Chile, Argentina and mystical Patagonia.
If a snowboarding trip to Chile or Argentina is on your radar, you are in the right spot.
Let's drop right in.
When is the South America Snowboard Season?
The snowboard season in both Chile and Argentina gets underway in June and keeps going until October with cold summer powder. Some years a handful of resorts will open as early as mid-May and can push into November. Follow updated resort opening dates here >
No need to pack away your gear for the "off-season" after your Japan backcountry splitboarding trip. The very fact that you will start packing for this South American snowboarding adventure in the middle of summer is hint number one that your breaking away from the pack and what people think when they hear the words summer vacation.
Don't worry about how many days you got to ride during the Northern Hemisphere winter or how you had that injury that kept you from snowboarding, South America is the answer and the massive Andean Mountain range is waiting for you to discover its deep high elevation snow and terrain like no other place on the planet.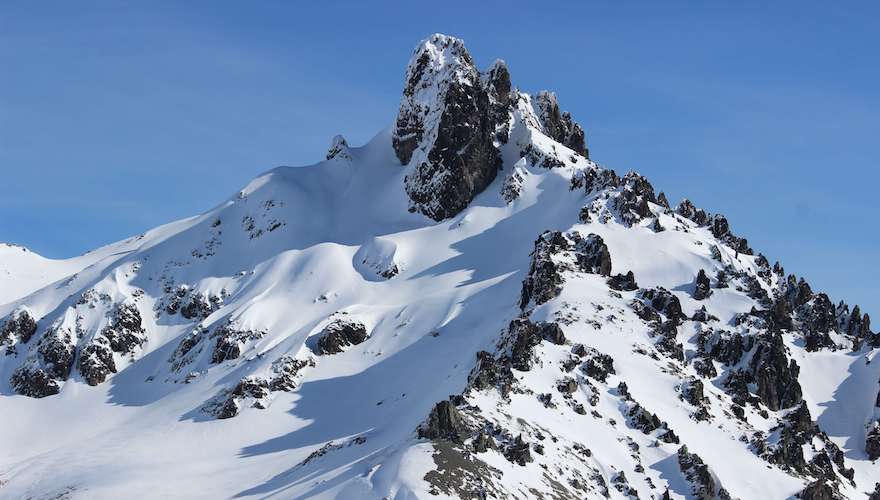 Where to Snowboard in South America & Why it's Unique
What makes South America snowboarding special is the diverse terrain changes from region to region.
We break down each region below. If you are researching on the best snowboard resorts in South America we go into more detail in the following travel guides written by our team of advanced freeriders:
Once you are ready to book a trip you can select from: 
 South America Snowboarding By Region
The Central Andes with towering ranges home to the highest peaks outside of the Himalayas and resorts that rival the finest services anywhere in the world.
This is home to many of The Andes largest and most well known resorts; Portillo Chile, Valle Nevado Chile, Las Lenas Argentina, Parva Chile and more.
High speed chairlifts, Cat-boarding and Heli access backcountry freeriding. It's all available here in Chile and Argentina.
Moving farther south the terrain turns a corner and changes into misty forests with some of the deepest powder you'll find any where on the planet.
Quaint villages dot the country side leading up to giant dormant volcanos and some, like Pucon in Chile, are fully active.
This wide open style of terrain will appease all styles of riding. Long flowing runs with wide open powder coupled with a natural terrain park hips, jumps and wind lips. The world's natural organic terrain park…perfect for snow surfing and your next backcountry splitboard trip.
Our favorite? Nevados de Chillan ski resort >
Deeper into Patagonia you'll be transported to the wild south, far far away from busy Buenos Aires.
Patagonia is a hideout for the explorers at heart. It's also one of the most uninhabited places on the planet. What can't be argued is that it's one of the planet's last remaining purely natural settings. It's also home to some of the most wild and magical freeriding with quite probably the best snowboarding in The Andes.
Modern day resorts like Chapelco (San Martin) and Alta Patagonia (Bariloche) give access to Patagonia's rustic natural playground. One minute your on a lively mountain town street that has a unique mesh of European/Latin American charm, and then 5 minutes out of town you're the only person in sight watching the sun set at the bottom of the world over pristine lakes without a care in the world.
Patagonia is truly an amazing place. Definitely on the "You have to go to know" list in life.
For a better grasp of the terrain and what it's like to go snowboarding in South America, don't miss this video from Arbor Snowboards featuring Mark Carter and Bryan Iguchi.
The South America Snowboard Scene
Mainstream snowboarding is still new here in this part of the world. Yes of course the locals ride. Are there the same amount of people at the skill level in North America and Europe? No. What does this mean?
More intermediate and expert terrain is left open and untouched, and by untouched, we mean fresh powder. The shred culture is alive and well here and the locals are super friendly and stoked to hear why you decided to come ride here, but let's put it this way; There is more terrain and more snow than there are people to take full advantage of it.
Recommended Snowboard Trips to South America
Visit multiple freeride destinations on these fully hosted adventures. Simply fly into Santiago or Bariloche and the rest is taken care of:
2 certified guides
6 guests per trip maximum
lift tickets, hotel, private transportation, hosted dinners and more
20+ years of experience running snowboard trips in South America
Going Deeper
Now let's dive in deeper and explore South America freeriding by country.
You'll learn how to get there, how to book a resort or backcountry trip, tips, highlights and more.