This guide will teach you everything you need to know about snowboarding and skiing in Patagonia. From the resorts to remote Patagonia backcountry touring destinations.
Patagonia's best ski resorts
Cool tips to ski Argentina
Discounts and deals on trips and packages
Recommended guided trips, backcountry touring adventures and more
Let's get started, Patagonia's ski season kicks off in June!
Where on Earth is Patagonia?
Before detailing the resorts and backcountry skiing options in the region, first we must define the geographical area that is Patagonia today.
With a surface area of approximately 800.000 square kilometers, Patagonia extends south of the Colorado river from 37° latitude south in Argentina; and from the city of Puerto Montt 42° south in Chile.
About 70% of the population live in 20% of the territory making it one of the most sparsely populated regions on the planet. In order to completely quench your wanderlust thirst of our world, a visit to Patagonia simply cannot be omitted.
For centuries the name Patagonia has evoked a sense of mystery and adventure. A lost world at the bottom of the planet.
Since the first chronicles from Magellan's 1520 expedition reached Europe, the notion that big footed giants roamed the end of the world have tantalised imaginations. Now we know that Patagonia is one of the last pristine wildernesses we have left.
Superlatives are simply not enough to describe the magnificence of the views.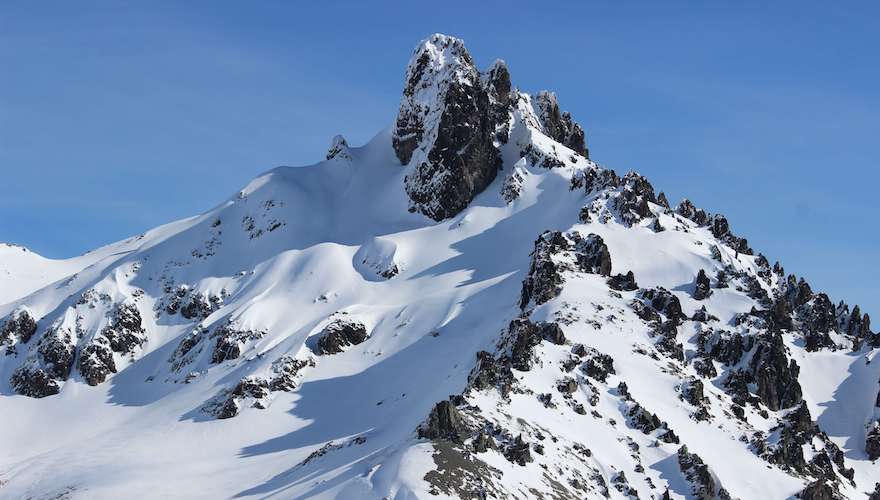 Skiing in Patagonia. It sounds so exotic, so much more daring than "We're off skiing in Aspen or Whistler"….


As for skiing and snowboarding Patagonia, what makes this area such a great option? Well, the weather lends itself to pretty awesome snow falls, and the dry climate in Argentina to the east of the Andes means the season is pretty long too.
Adventurous skiing pioneers wandered the land in search of the perfect powder, which prompted the creation of some of the most developed ski resorts in South America.
Winter in Patagonia runs from June to September, with ski season extending well into October, especially for backcountry skiing and splitboarding.
Tip For Snowboarders


Keep on to learn more about each resort or jump down the page directly to our exclusive Freerider's Guide to Patagonia Snowboarding.  LET'S GO!
"When I think about riding in South America, I think about being in the biggest mountains I've ever been in, warm locals, culture shock filled adventure, and some of the best red wine and beef on the planet." – JAKE BLAUVELT
Top Ski Resorts in Patagonia Argentina


Here we cover our favorite Patagonian ski destinations. All areas can be accessed via a connecting flight into Bariloche from Buenos Aires, Argentina's capital city. Chapelco and La Hoya also have local airports for more direct arrivals from Buenos Aires.
For more details on each resort, there is a link to visit our review page providing feedback, additional tips, more details, and of course how to make it all happen.
Cerro Catedral Alta Patagonia


When you think of skiing Patagonia, this is generally the first resort to come to mind.  Due to an impressive 6 million dollar investment over the last years, Cerro Catedral just 12 miles from the picturesque tourist city of Bariloche is developing fast and meeting the needs of all snow lovers.
With 7,000 beds at the base of the ski resort, plus another 28,000 in Bariloche itself, finding somewhere to sleep is generally not a problem. Finding the energy to ski all the runs may prove more challenging!
The longest run is a whopping 5.5 miles There are 75 miles of pistes covering the 600 hectare (1485 acre) park which is serviced by 38 ski lifts made up of six-packs, quads, doubles, t-bars, disk surface lifts and gondolas.
Cerro Catedral is tremendously accessible thanks to their local airport which also means it is popular and bustling. The highest piste reaches 6890ft and the max vertical drop is 3280ft.
Freestylers will love the well-established ski and snowboard park which also offers plenty of options for beginners such as lessons, snowbikes and tubing. Most of the park is dedicated to intermediates however, leaving the remote back country for the experts. Non skiers have the 360° views and the shopping mall located at the base resort to keep them entertained.
BEST TIP: From the top of stop for the all-encompassing spectacular views of the surrounding granite peaks, Nahuel Huapi National Park, the towering 11660ft high Tronador mountain, and across the Andes into Chile. Some serious tree skiing includes an impressively remote backcountry hut skiing system which covers vast Patagonia backcountry terrain. 
La Hoya


Located near the frontier town of Esquel in the province of Chubut, La Hoya is named after the wide glacier on which it is balanced over a circular basin.
Discovered for its skiing potential by brave pioneers in the 1930s, by the 1950s the resort had been created. In comparison with Cerro Catedral, the slopes are relatively uncrowded, due in most part to the off-the-beaten track location.
With the longest run just over 3 miles, there are 15.5 miles of pistes covering the 60 hectare (148 acre) park. The 24 runs are fed by 10 chair and surface lifts. The max height is 6889ft with a vertical drop of 1640ft.
Experts will find the off piste and backcountry simply amazing, intermediates will find a great trail system of on and off piste terrain, and beginners can take lessons in the ski school leaving non-skiers to enjoy snow shoe tours or the stunning views of the Los Alerces National Park.
BEST TIP: Unbeatable off piste skiing, as well as the Flypark which is said to be one of the most complete in South America. Also, the true frontier feel of town surprises as it offers some really decent accommodation options. 
Chapelco


Located in the North East of Patagonia in the province of Neuquén, Chapelco is just 12 miles from the modern tourist hub of San Martin de Los Andes. The infrastructure is impressively modern and the service quality of a high standard.
The longest run is 3,2 miles and the slope gradient ranges between 20 and 40 degrees. 22 trails cover more than 140 hectares (345 acres) which are fed by 10 chair and surface lifts.
With a vertical drop of 2360ft and a max height of 6463 feet above sea level, the views from Chapelco resort are outstanding.
Designed with both beginners and budding pros in mind, the Freestyle snowpark is well kitted out. High quality English speaking instructors make the ski school one of the best in Patagonia. For intermediates and experts the off piste options at Chapelco are nothing short of outstanding.
As for non-skiers, the views enjoyed over locally made chocolate slowly dissolving in hot milk after a husky dog sled ride are unmissable.
BEST TIP: for intermediate skiers this is possibly the best option in Argentina's Patagonia with its groomed slopes, exciting off-piste terrain and unbeatable tree runs. Chapelco recently won the best ski resort in Argentina from The World Ski Awards 
Cerro Bayo


Having begun life as a family run affair, Cerro Bayo is now enjoying investment from its commercial owners. A true off-the-beaten track option which offers deep dry powder and seemingly endless runs, despite being dubbed "an upscale boutique resort", you will not find crowds here.
Located just 15 minutes from Villa La Angostura in the Neuquén province of Argentina, accommodation and eatery options in the town stand out for their quality and innovation. As do the spectacular views of Nahuel Huapi Lake.
25 runs dissect the 500 hectares (1235 acre) of the ski resort, the longest of which is a cool 6 km. 13 lifts include a gondola which reaches the top of the mountain, provide easy access to the pistes and backcountry. The vertical drop is 2477ft and max height is 6037 feet.
Well-developed back country routes make it a pure playground for experts, while snow tubing is a popular alternative to skiing for those who are in search of something different.
BEST TIP: Cerro Bayo is the only ski resort in Patagonia, Argentina with off-piste signage. The easy access backcountry makes it a dream for pros, and the freestyle park is equipped with sofas and beanbags just urging you to take a break and enjoy the views and laid back vibe of the resort.
So, there we go with our run down and top tips for the coolest Patagonian ski resorts. With accessible air fares and a season that slots neatly in between that of northern hemisphere resorts, a ski trip to Patagonia should be on your adventure to do list. 
Recommended Ski Tours to Patagonia Argentina


Visit multiple ski destinations on these fully hosted adventures. Simply fly into Bariloche and the rest is taken care of:
2 certified guides/trip hosts
6 guests per trip maximum
lodging, lift tickets, private transportation, hosted dinners and more
2 decades of experience
The Freerider's Guide to Exploring and Snowboarding Patagonia's Legendary Route 40


Exploring the world as a snowboarder takes some effort. Effort that is well worth it. You need to make a plan, pack up the gear and be ready to travel by car, train, bus and airplane. This is almost as fun as snowboarding itself. The journey between the locations can bring just as much excitement and wonder. This is why snowboarders do these kinds of trips even if they don't understand it.
It's the calling of the unknown which is the real spice of life.
Ruta 40
There are famous routes that snowboarders have been wandering for years.
Canada has its famous Powder Highway and in Europe you can lose yourself in a maze of trains, cheese, wine, and the autobahn.
One of the most overlooked and wilder of the world's amazing road trips though is in Argentina and it's called Ruta 40.
Using this piece of pavement and winding dirt roads you can link yourself up with five Patagonian ski resorts and everything in between. These destinations are adventure in its rawest form.
It's the remoteness of this part of the world that makes snowboarding Patagonia alluring. From lush old growth forests surrounded by huge peaks and volcanos to the waters edge of Tierra del Fuego island at the bottom of the world: this is the kind of snowboard road trip where anything can happen.
San Martin de los Andes: Snowboarding in Patagonia Starts Here


Patagonia snowboarding all starts here… San Martín de los Andes is situated in the Neuquen province of Argentina.
Chapelco, the local resort, is a quick 13 miles from town. Sitting at 6463, Chapelco offers 140 hectares of terrain with 11 lifts and a gondola.
This place will not disappoint any rider who is looking to have a good time on the snow. Modern high-speed quad chairs and great lower mountain grooming will make any doubter think twice about South American being a second class place to snowboard. The large upper mountain has steep fall lines, amazing tree runs and even a terrain park that will make riders jaws drop.
For those looking to get into the backcountry, Chapelco has access to the backside terrain from the top of the upper chairlift. Patagonia is splitboarding heaven.
The town of San Martin has a very European feel with all of the amenities you could find anywhere else in the world but with an Argentine feel: a style somewhere between rugged Patagonia and cuisine you might find in France or Italy. Lovely cafes, pubs, restaurants, and shops with artesian goods line the streets of this quiet town.
A great side activity in San Martin is a boat cruise or walk around the Lago (lake) Lacar. Make sure to also taste some of the many microbrews from this region as well.
Snowboarding in San Martin Highlights:
Gondola
Trees
Backcountry (backside)
Town is fun but more mellow with nice shops and food
Great local snowboard scene
Suggested Trip: 7 day guided adventure visiting Chapelco and beyond. Tell Me More
On the Road: Siete Lagos (7 Lakes Highway)


Traveling anywhere in South America's Patagonia can mean that the journey is the best part, and anyone who has driven the Ruta de Siete Lagos will agree.
Leaving San Martin de los Andes and heading south on the first leg of the trip will take you into the wild old growth forests and lake zones of beautiful Patagonia. You could use Route 40 to get to the next destination, but this is the one time you should take a detour.
The Ruta de Siete Lagos (Road of the Seven Lakes) is a 70 mile stretch of road that will take much longer than you think. It is also arguably one of the most beautiful drives on the planet. The impenetrable green forests and stunning blue lakes along the road will have you stopping for tons of photos and there are many amazing places to stop for picnics.
It's even easy to forget you're there to snowboard because the journey is so captivating. The road can be a touch bumpy, but that's what makes it more like a snowboard safari then just a drive.
Arriving to Villa Angostura


This quaint Patagonian resort is one of those places you hear about and wonder if it really exists.
There are no liftlines, the snow can be awesome, and the backcountry is empty, yet all-time. Yes, this is all true here. It is possibly the most underestimated Patagonia snowboarding location.
The terrain in the resort is a snowboarder's paradise: it's steep, and there are features upon features to ride for days. The groomed runs are fast and wide open. The backcountry surrounding the resort gives you splitboard access to all directions, and the snow lasts for days after a storm.
It has an awesome mid- mountain cafe and an almost fairytale-like village to welcome you home at the end of the day. Villa La Angostura is not over developed, yet has everything you need.
The town is a mirror image of the atmosphere at the resort. It's just what you need and nothing more. No crazy high-rise hotels or cookie cutter restaurants. Just a simple mountain town.
This place is probably what the definition of "boutique" was based upon. If you like things coined "boutique" you'll love this place.
Snowboarding Villa La Angostura Highlights:
New Gondola
Fun trees
Backcountry splitboarding options accessing untouched peaks
Nice shops and food in the village
More relaxed option to busy Bariloche
Suggested Trip: Week long guided adventure visiting Villa La Angostura and the resorts of the 7 Lakes. Tell Me More
Onto the Road: Quick Trip Across the Lake Nahuel Huapi
While you've been snowboarding Cerro Bayo you can't help to see the massive Nahuel Huapi Lake. It's water commands the view of the entire area and now it's time to drive to the other side of it.
It's a quick fifty miles but again very winding and takes some time. The road hugs the shore line of the lake and then the geography turns quickly into pampas (dry, brushy zone).
As you turn the corner of the lake, the mountains and the city of San Carlos de Bariloche come into view and the next resort Cerro Catedral dominates the skyline.
San Carlos de Bariloche: Gateway to Cerro Catedral Alta Patagonia Resort
This is where the game changes. Bariloche as most people call it is a large city for the south. Big as in, over one hundred twenty thousand people. Don't worry though since the mountain is just as massive.
Boasting more than 25 lifts to take you up to the top of what some call the real gateway to Patagonia. This place is bustling with action. Terrain parks and enough space to keep you busy for days.
The terrain off of the Nubes chair lift is exceptional. Lunchtime on the mountain is its own event with a variety of food styles to taste.
Views from the top display the dual nature of Patagonia, rugged peaks in one direction, endless lakes in another, and the dry pampas regions.
Riders looking for more mellow terrain can find it at Cerro Catedral with nice, long top to bottom runs. Those looking for backcountry could try their hand at the Laguna area or take it to the next level and head for the Refugio Frey and Refugio Jacob with your splitboard for an overnight or week-long guided adventure.
Fiesta Time in Bariloche


Night time is the right time in Bariloche. If you're going to cut loose on your snowboard trip, this is the place to do it, and do it right!
This city in the south is filled with some of the best steak restaurants in the world. Beef and wine lovers rejoice. Many pubs also serve a variety of great pizza and craft beers as well. Then there's the discos… You can really lose some sleep here if you want to and dance yourself into the night.
Crawl the bar scene and then dive into the discos that will have you watching the sun rise. That's if you can handle it.
Are you willing to miss first chair? It's all up to you in Bariloche, or as some know it: "BARILOCOS" (Bari-crazy).
Snowboarding Bariloche Highlights:
Huge terrain
Good backcountry options
Large town with amazing food, nightlife, and culture
Budget to high end lodging options
Snowboard terrain parks
Extensive lift system
Suggested Trips:
 A selection of guided adventures to make the most of Bariloche and more. 
Show Me
On the Route 40 Road: The Long Stretch to Nowhere


Rt. 40…where the road goes on and on. What your mind's eye thought Patagonia was going to look like, this is it. This is further south than most ever venture.
Leaving the forested area of Bariloche you'll drive into long dusty stretches with white mountains far into the distance. The brushy vista is wide open and you might see a gaucho (cowboy) riding along the roadside, heading off into the unknown. You might see and hear nothing but the wind that Patagonia is known for.
Butch Cassidy and the Sundance Kid were known to haunt these lands and if you were looking to disappear and get of the grid of life then you're on the right track. It's roughly five hours to the next stop Esquel so get ready for the "El camino" (the road).
Esquel – La Hoya Ski Resort


This resort is one of those "diamonds in the rough" kind of places. It's harder to get to, not as fancy and in general, is a little more rustic.
That is not to say it doesn't have some of the best snow and snowboarding terrain in Argentina, South America-because it quite possibly does. Entirely south-facing, the snow stays the coldest and longest of most ski areas in South America.
The off-piste riding at La Hoya (pronounced La Ho-ja) is completely underrated and relatively undiscovered. Snowboarders of all levels will be surprised at this resort's quality terrain, grooming, and accessible side-country.
More modern amenities are being implemented into the resort, but it still has that wild Patagonia feel to it. 
This video will give you a better feel of the off-piste snow and terrain.
For more videos from South America, check out our post featuring the best snowboarding videos on YouTube filmed by trip guests on PowderQuest Tours.
The town of Esquel will have you mingling with locals while eating classic Argentine fare. When we say classic, we mean classic. Not quite, your average tourist-town, this place will definitely have you feeling like you are on a snowboard adventure, not vacation.
Take in the real atmosphere of Patagonia here while sipping on regional Malbec wine paired with one of the most delicious steaks of your life.
And don't be worried about nightlife in a "rustic" town: It's Argentina and you'll always be able to find some music, dancing, and fun at one of the local bars.
Snowboarding Esquel Highlights:
Really low key
Amazing slackcountry for splitboarding
Good snowboard park
No lift lines
Cheaper than most places
Real Patagonia feel
Learn more about this off the beaten track resort
On the Road Route 40 South:  To The End of The World


This is where some important life choices come into play. How much farther do you want to drive? It's roughly 1,000 miles (1,500 km) to the next resort of Cerro Castor in the port city of Ushuaia on Tierra del Fuego island. We're talking south. Deep. South.
The roads are long, open and lonely. Everything that this part of the world is known for, everything that makes it unique, you will experience by simply holding down the gas pedal. You'll follow Route 40, enter into Chile at a one-of-a-kind border crossing and you'll be heading via ocean ferry into the Strait de Magellan.
An amazing part of the drive that will be worth all the time spent getting there. Arriving back into Argentina on the other side you'll wind your way into the mountains and then descend into Ushuaia. Welcome to the bottom of the world, the beginning of everything.
Travel Tips: Other options are to  fly to Buenos Aires from Esquel or Bariloche and then down to Ushuaia via one of the domestic airlines.
Ushuaia, Tierra del Fuego and The Cerro Castor Ski Resort


Cerro Castor, Argentina (or as it's known in English "Beaver Peak") is one of the most exotic places to snowboard Patagonia, if not on the planet.
It is the southern most ski resort on earth and it's on an island. Cerro Castor rises 3,468ft straight out of the ocean and has almost a dozen lifts.
This mountain resort is like a fantasy land. The resort has been operating since 1999 so everything is very modern. The terrain starts at the peak with huge wide open bowls that lead into perfectly groomed runs that have been gladed through the tight trees on the island.
Many international ski teams train here so the mountain is maintained very well. 
You'll find yourself asking yourself again and again: "Where am I?" You are at the end of the world of course, and might as well be snowboarding Patagonia's Cape Horn.
Staying in Ushuaia and eating out is as unique as the resort. Seafood is the staple here, and of course it's abundant. King crab (Centolla) is what the island is famous for so take advantage. There are also more sheep on the island than people, so you can guess that finding a "Parrilla" (BBQ) is an easy and delicious feat.
Ushuaia also has many parks to visit and interesting history museums. It's easy to spend several days there exploring the cultural sites and forgetting that you are there to ride. Another day activity is taking a boat cruise on the Beagle Channel to one of the the surrounding islands to get a glimpse of seals and native sea birds. Serious backcountry riders can splitboard on the Glacier Martial, a taxi-ride from town, where you can see the snow stretch all the way to the ocean below you as you drop in.
No matter what you do there, how much you ride, or if you like seafood, Ushuaia might be one of the most unique places to call a snowboard destination on planet earth.
Snowboarding Cerro Castor Highlights:
Bottom of the world
Wild
Mystic, food, sea life, an experience of a life time.  The perfect place to end the snowboard trip (or start?)
Fun mountain
Easy backcountry access
Modern resort
Nightlife is really fun
Like all snowboard trips it's how you plan it. It's how you get there and where you start it all. The bottom? The top?
In any case be ready for anything and expect to be amazed. You will be drawn into what snowboarding Patagonia Argentina is…..Nothing and everything.
How to Chase Powder in South America


A great way to explore the Andes, visiting multiple resorts or backcountry is a guided adventure. Check out the selection of 7 to 12 day guided journeys in Argentina and Chile: