Yes, summer skiing makes year round skiing and snowboarding is a reality.
Even better? There is year round powder skiing.
But you need to skip out on skiing in summer at Mt. Hood or in Switzerland and head south of the equator to true winter.
Where can you ski in the summer?
For powder skiing in July and backcountry skiing in August-September, start packing your bags for the winter sports destinations in South America. Chile and Argentina are home to most likely the best destinations for a true summer ski holiday.
Most skiers and snowboarders put away their winter gear in ski storage as early as March thinking about mountain biking, golf, and barbecue season. Diehards on the other hand are still dreaming of their powder turns from their Japan ski trips and start searching for where to ski in the summer.
Options vary from summer ski camps and glacier skiing in Oregon, Whistler, and Switzerland, to deep powder, summer skiing in the Southern Hemisphere.  
Curious about where to ski in June, July, August, and September, during the northern hemisphere summer? Read on.
Here are our top 7 summer ski resort destinations in South America for powder skiing and snowboarding from June to September.  
Tres Valles, Chile


Tres Valles in Chile, not to be confused with France's Three Valleys, is the place to go if you're looking for quick access to powder and summer skiing in South America. With three legendary ski resorts comprising this massive zone of mountains just above downtown Santiago, you're sure to find some gems worth exploring for your summer skiing holidays.
Thanks to the proximity to Santiago's main international airport, you can be skiing summer powder at these 3 main snow sport destinations by lunchtime the day you land in Chile.
1: Valle Nevado, The Largest of the Tres Valles resorts


Less than a 2 hour drive from Santiago airport, Valle Nevado opens up its doors in June (late May on a big early start) to over 7,000 acres of skiable terrain. If you're lucky, you'll find yourself skiing well into October. The weather is perfect here with straight sunshine 80% of the time. All this sun doesn't keep Valle Nevado from drying: the temperature and geological orientation of the winter sport destination help it maintain deep, fresh powder most of the ski season.
For those experienced in snowboarding and skiing, Valle Nevado is a playground filled with fantastic chutes, bowls, and gullies. It is probably worthwhile hiring skilled guides that can take you to some of the best off-piste skiing or backcountry in the three valleys.
With over 41 on-piste runs, Valle leaves enough exploring to last beyond the season. 
2: La Parva, The steepest of the Three Valley's


Just around the corner from Valle Nevado is a far less crowded resort with runs that surpass 11,000 feet above sea level. La Parva has access to some of the best backcountry skiing in the area… if you're willing to hike or skin to it.  Steep chutes and walls like McConkey's (named after Shane McConkey), and La Chimenea are said to give chills to even the most experienced riders.
Being home to several freeride championships the area is definitely carved out for creative runs with deep powder bowls, cornices, and gullies. If you're looking for some speed, La Parva boasts innumerable groomers to catch some fast turns during the North American summer. 
3: El Colorado, The Three Valley's locals favorite

Summer skiing in Colorado? Skip the Rockies. This is the only Colorado where you will find powder in August. The most popular resort with the locals, El Colorado is now being recognized by several pros as having the best terrain park in South America.
Every year the park brings in a designer and changes up the routine for returning riders each season. El Colorado's terrain park has over 40 features and a freestyle zone offering up 250 meters for boardercross.
El Colorado's backcountry is constantly being raved as the best places for expert snowboarding and skiing in the Three Valleys.
The most talked about area goes by Santa Teresita and is considered to be one of the best zones in the area if you have a ski guide and a vehicle to get back to the ski resorts base.
Overall, this coned shape summer ski destination has great options from beginners to experts looking to escape the summer heat back home.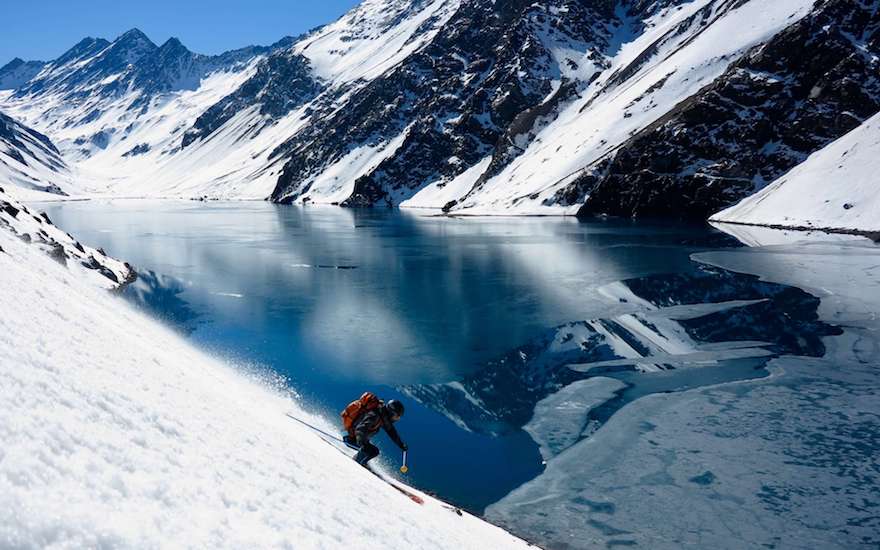 Portillo, Chile


Ski Portillo Resort is generally the first Chilean snow sport destination that comes to mind when traveler's begin to research a summer trip to ski Chile. 
For good reason! The resort is constantly regarded as one of the best ski destinations in the world by several media outlets. The resort is filled with beautiful natural features that put together a playground just steps from the big yellow hotel's door.
Just a short hike from Portillo is some backcountry that pulls out all the hits. Want to go bigger? Portillo is also home to classic resort accessed backcountry terrain including the legendary Super C.
In bounds, The  Primavera Run is is drenched in powder where the 200 km skiing speed barrier was first broken! Within the resort, you can also find several fun intermediate to advanced runs like Garganta, Condor, and Roca Jack off one of the 14 lifts operating on the mountain. 
Portillo also boasts one of the best ski schools in South America. 
Nevados de Chillan, Chile


For those in search of the deepest powder in South America, Nevados de Chillan is where you should plan to ski or snowboard this summer.
Previously called Termas de Chillan, this winter sport area receives over 30 of snow every year and is situated on the stunning Volcano Chillan.  The snow quality and terrain has brought teams like Smith Optics and Dakine to Chillan as their new summer photo shoot base and the resort continues to become more popular every season with powder hounds from around the globe.
 Not only does the powder cure the summer time skiing blues, but the resort has natural hot springs situated all over. Great for muscle recovery after a big powder day.
The best reason to visit is the incredible amount of backcountry and cat ski access there is. Volcano descents and full lines down from the peak of Los Nevados are two features from a huge number of possibilities in the backcountry.
You might see online that Chillan received some not-so-great reviews, and this was because of a shift in ownership. But that is all in the past now, as the new management has been able to open up the majority of the tenure and now works on a ski-in ski-out basis with some nice amenities for those staying right on the mountain. 
Cerro Catedral, Argentina


We all hear about the gorgeous landscapes and slopes of Patagonia, and this is referred to as THE place to ski in Patagonia.
Cerro Catedral is one of the most modern and progressive snow sports destinations in South America, and in turn one of the busiest. But fear not, you can always escape the crowds, especially in August and September.
The area is filled with the huge granite cathedral like spires that inspired its name. A quick hike into the backcountry and you'll find some spectacular couloirs to ski. A definite spot to find is the Refugio Frey backcountry hut. The place is completely filled with dozens of couloirs just waiting to be ridden.
Cerro Catedral is also only a 25-30 minute drive from the social hub of downtown Bariloche. It offers up the ability to party with the locals and get an in on the latest lines and best zones on the mountain over a late night Fernet y Coca. Parties in downtown Bariloche have been known to go on past 6am, so make sure to get down with all the Argentines and Brazilians before you hit the mountain for more summer powder. 
Read more about Bariloche's Cerro Catedral >
Las Lenas, Argentina


The terrain found within Las Lenas is mind blowing. The legendary Marte chairlift makes it all accessible. Many pros and diehard skiers and riders have said they would give up every other lift in South America for a good powder day on the Marte.
Giving easy access to 48 degree couloirs and incredibly steep bowls makes it one of the best in the world. Combine that with the endless cat skiing options all over the mountain and you'll have entire seasons worth of exploring to do.
Not a hardcore skier or snowboarder?  Las Lenas offers some really nice, long and wide intermediate to advanced groomers to explore on the front side and even off the Marte.
For the night owls, Las Lenas party scene is up there with the best and you can easily find yourself dancing until dawn with beautiful locals and Brazilian tourists. 
South America has some stellar spots that any skill level can appreciate and enjoy. Plus it's probably the best summer skiing in the world.
Whether you're looking for a family friendly resort, a backcountry escape or a terrain park filled with the pros, a Summer spent in South America will be filled with fresh powder, friendly locals, and a chance to ski some awesome lines with your amigos.