Las Lenas Ski Resort: The Guide to Argentina's Steepest Skiing
This updated guide will help you learn about snowboarding and skiing in Las Lenas Ski Resort in record time. If a ski trip to Las Lenas, Argentina is in your plans, you are in the right place. Let's drop right in.
Where is Las Lenas in Argentina?
Las Lenas Ski Resort is located in the Mendoza Providence in Argentina. The closest town to the ski resort is Malargue (roughly 27,000 inhabitants), which is 50 miles (80 km) to the southeast.
The nearest sizable city is Mendoza, which is 260 miles (419 km) to the northeast. Buenos Aires, the country's bustling capital city, is over 620 miles (1,000 km) away to the east.
Las Lenas Ski Terrain: What to Expect
Intermediate Terrain

While the resort is know internationally for big steep slopes and off-piste, Las Lenas skiing and snowboarding for intermediates is quite good and a popular destination for families of varied abilities. The intermediate runs are nice and wide, with a good pitch. Even the Marte Chair offers long cruisers, and you will be rewarded with amazing views of the Las Lenas Valley and beyond.
The ski and snowboard school has quality multi-lingual instructors many with international experience in Aspen, Vail, and Andora.
Terrain – freestyle

The snow park is located near the TK Minerva lift in the center of the resort. Overall it's a pretty basic park, designed for beginner to advanced intermediate skiers and snowboarders. The zone hosts several boxes, rainbows, rails, and a few small to medium size hits to air it out. Opens daily, weather permitting, from 10am-3pm.
Beginners and non-skiers

The base area just off the village has several Poma lifts, a good area for beginners, and the slopes are low angle and wide. The school offers group and private lessons for beginners.
For non-skiers, there is a small shopping section in Piramide to pick up some over priced gifts, a casino, or the Piscis Hotel and Spa to spend the day relaxing. However a week in the Valley would get quite stale for non-skiers.
If you have non-skiers in your group, and they are not interested in taking lessons, we would suggest the northern Patagonia town of Bariloche to base your vacation. Great non-ski activities and the ski resort is just a short 30 minute transfer from town.
Home to Some of the Best Advanced and Expert Terrain on Earth
Words simply cannot describe some of the ski and snowboard terrain found in Las Lenas, Argentina. With more skiable terrain than Whistler, Las Leñas ski resort offers fun snowboarding and skiing for advanced to experts with a layout of 14 ski lifts and vast out of bounds all above tree line.
Throw in the snowcat cat skiing tours, and easy backcountry ski touring and splitboarding access, you are in paradise for steep terrain junkies looking for the ultimate Andean buzz thriller.
Terrain – experts

Off-piste options are absolutely huge and advanced riders will find hundreds of chutes and bowls and some of the best lift accessed terrain in the Andes, if not the planet.
Many of these lines filter you right back into the resort so running laps on some of the best lines of your life are a true possibility when the conditions are right and you know where to go.
If you do not know where to go it's important to know that several chutes do not have exits. Others cliff out requiring mandatory air or a sketchy hike back out. We cannot express the importance of knowing where you are going and to always ride with avalanche safety equipment; shovel, probe, transceiver, and a partner you can trust. We highly recommend to join a guided tour with certified ski guides or hire a guide through the ski and snowboard school once you are there.
Where's The Tree Skiing?
It is important to note that there is no tree skiing in Las Lenas. If you want to ski trees in Argentina you should head south to Patagonia. The resorts of Cerro Bayo, Chapelco, and Bariloche's Cerro Catedral have good tree runs.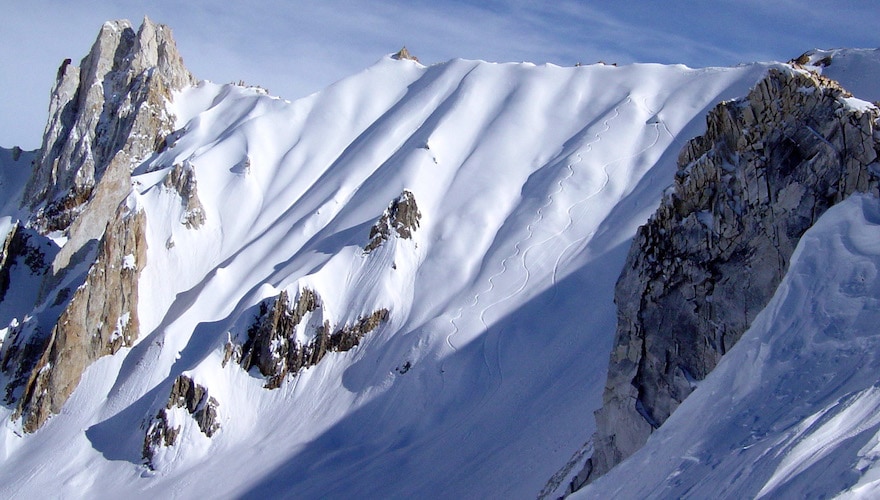 Las Lenas Backcountry Access
For backcountry terrain, the split boarding and ski touring options are truly endless. Ski bums, film crews, and pro athletes spend seasons here skiing Las Lenas legendary backcountry and exploring the mountains toward Chile. Some living in high end apartments and hotels, others in their cars or snow caves hidden up valley. Maps and guidebooks have been written covering the lines in and out of the extensive ski area.
Leaving the ski area boundary requires you sign a form with the ski patrol. They will generally ask for your passport number and where you are staying.
If you only have a week or two to ski South America, we suggest a guided trip to experience the best terrain and maximize your time enjoying it. The tour will get you priority access to the ski lifts, cat skiing, and two certified ski guides that know the terrain and where to find the best snow on the mountain.
Joining a PowderQuest guided backcountry ski trip to Las Lenas resort you have priority lift line access which is a huge value as the line on the Marte chairlift can get very long.
The Legendary Marte Chairlift
Most of the best terrain is located off the famous Marte double chair and the runs are long, really long. Some of our favorite steep leg burners are Eduardo's, Paraiso, El Collar and even the Marte Bowl running under the legendary chairlift. As mentioned above, the options are world class and if you hit it right, it could be the best skiing or snowboarding of your life with over 15 miles of skiable runs.
It's important to note the Marte lift does close due to anything from high winds, avalanche danger, unusually cold temperatures or for no apparent reason at all, known as the "A-Factor". When Marte closes, so does a good amount of the advanced and expert terrain.
Other resorts occasionally have lift closure issues as well but do not affect us as much as a Marte closure. When Marte does close, they often open up snowcat accessed terrain for our tour guests and there are hiking options off the Neptuno chair.
How to Get to Las Lenas
Getting to Las Lenas is not as straightforward as getting to other Argentine ski resorts, but for many, the trip is well worth it. There is no direct flight from Buenos Aires, Argentina or Santiago, Chile to Las Lenas, but there are several gateway towns and cities a visitor can choose to travel through once arriving to Argentina or Chile. 
Arriving From Buenos Aires
Arriving From Santiago Chile
You can also travel to Las Lenas from Santiago, Chile. If you are already in Chile or when flights from home to Buenos Aires are more expensive in comparison, this is a good travel hack. Start by flying into Santiago (airport code SCL). From here, to get to Las Lenas, you have an air option and by ground.
Not up for driving but up for the ride? Several bus companies depart downtown Santiago to Mendoza. From Mendoza, there are multiple bus options to continue the journey south to Las Lenas.
Las Lenas Via Mendoza, Argentina
By now you know Mendoza is a travel hub to get to Las Lenas, but it should be noted it is a good 5-6 hour drive to cover the 260 mile road journey. One great way to break up the drive if you are traveling in a private vehicle is to stop for lunch at one of the local vineyards a few hours south of Mendoza. O Fournier is a popular stop.
Weather and Snow Reports
For updated Las Lenas snow report, conditions and current weather use the following apps:
Resort Stats
Note: There is mandatory use of helmets in Las Lenas

Ski Resort Location: 43 miles from airport and town of Malargue, Mendoza Province of Argentina
Elevation: 2,240m (7,349ft) at the base to 3,340m (11,253ft)
Vertical Drop: 1,190m (3,904ft)
Inbound Terrain: 15% Beginner, 45% Intermediate, 35% Advanced, 5% Expert plus endless off piste and backcountry to explore
Ski Lifts: 14
Top lodging options: Piscis Hotel, Escorpio Hotel, Airies Hotel, Virgo Hotel 
Off-Piste and Backcountry Access: Excellent
Heli-ski: Heli skiing is no longer offered, but cat skiing is an option
Ski touring in Las Lenas: endless backcountry options from short day trips to over nighters
Annual Snowfall: 250 Inches (635 cms)
Ski Season: June to October
Ski and Snowboard Park: Yes
Night Life: Some of the best in South America
New Gondola Coming in 2022?
Argentina ski resorts like Cerro Bayo and of course Las Lenas have had rumors circling The Andes and the international ski world for year promising new gondolas. 
Finally, for 2022 it does appear Las Lenas will be adding a new gondola from the front side base area to somewhere around the entry to El Cartel. As news becomes official we will update here.
Lodging Options in The Las Lenas Village
For lodging in Las Lenas, the Virgo Hotel, Piscis Hotel, Escorpio Hotel and Aires Hotel are the best higher end options.
Should you prefer an apartment, there is a small, expensive market to pick up snacks, or to cook in your kitchenette, but most of the Las Lenas hotels have their own restaurants with good food and outstanding red wine options, including Argentina's popular Malbec.
Hotel Virgo, known as the best hotel in Las Lenas, has a spa, gym, sauna, jacuzzi, and heated pool. Massages are also available upon reservation, with priority given to hotel guests.
Booking a Hotel or Apartment
PowderQuest does not book ski vacation packages or hotel reservations in Las Lenas (with the exception of our guided tour guests looking to extend their stay in South America).
If looking for a holiday ski package or hotel reservation in the Las Lenas Valley, a good start is to check options on Booking.com >
The small village, built in the early 80's offers a bus line to access the shops in Centro Comercial La Piramide, the casino, restaurants, hotels, and nightlife. Higher end shopping can be found in the Hotels Piscis, Virgo and Aires. Most places are also within walking distance.
Night Skiing?
The only night skiing in Argentina is in Las Lenas, maybe worth a few runs just to say you did it, but it's located on the beginner terrain so unless you are just getting started, it's best to save the legs for tomorrow.
The After Ski Party Scene
If you still have legs after a day on the mountain, Argentina's famous late night bar and disco scene live strong here in the Las Leñas Valley. It is not uncommon to see folks pouring out of the discotheque as you are about to make your first powder turns of the day! This leaves the entire resort crowd free for hours.
Nightlife can be pretty outstanding and runs very late. Some of the bars and discos do not get going until 2am and do not close until 6am, packed with beautiful Argentines and Brazilians dancing and sipping Fernet & Coca-Cola. It's tough to balance the partying and skiing, but with an afternoon and popular bitter stimulant Yerba Mate (similar to green tea), you can probably find a good balance.
The good news is many of the lifts turn until 5pm and there generally is not a huge rush in the morning to get first chair, unless it's a bluebird powder day. Even then you need to be patient as the resort can take awhile to get things open after a fresh snowfall.
So, there we go with our run down of the legendary Las Lenas ski area. Well worth the visit, especially if you are looking for steep terrain. A ski trip to Las Lenas should be on your adventure "must do list". 
12 Day Adventure to Las Lenas + Chile
Guided backcountry trip visiting the best of the Andes