Cerro Catedral Alta Patagonia: 2022 Guide to Bariloche's Ski Resort
This updated ski guide will help you learn about the Cerro Catedral Alta Patagonia Ski Resort located in Bariloche, Argentina. The best part? Everything here applies to skiing in Bariloche for 2022.
Pro tips
Snow and terrain details
How to get there
Our favorite guided trips and more
Let's drop right in, Bariloche's ski season gets going in June!
Will You Be Able to Ski Bariloche in 2022?
Where is Cerro Catedral Ski Resort?
The Cerro Catedral ski resort is located just outside of Bariloche in the breathtaking Nahuel Huapi National Park in the rugged Rio Negro Province of Argentina. This province is also home to the Lakes District of Patagonia, and is nearly 1,000 miles southwest of Buenos Aires, Argentina's booming capital.
The closest town to Cerro Catedral Alta Patagonia is San Carlos de Bariloche. The town and ski resort are a mere 12 miles apart. The distance typically takes 25-30 minutes to travel by car. Now let's cover how to get to Bariloche.
How to Get to Bariloche and The Ski Resort
Getting to Bariloche and the local ski resort is accessed via a domestic flight from Buenos Aires to the Bariloche airport. We cover the details here.
Getting to Bariloche
It is highly recommended that travelers fly from Buenos Aires to San Carlos de Bariloche. Fortunately for visitors to the ski resort, the town boasts its own airport(airport code BRC). The flight from Buenos Aires to Bariloche is typically 2 hours long and multiple planes make the trip daily. Bariloche's airport is located just 7 miles (11 km) from the city center. Check flights here >
Getting to Cerro Catedral Ski Resort from Bariloche
The 13 miles (20 km) distance between Bariloche and Cerro Catedral resort is easy to cover, and typically takes no more than 30 minutes to drive. The ski resort and town are connected by a fully paved road that is decently maintained, but can however be quite icy at times, so take extreme care. The road is equipped with sufficient signs to not get lost on the way.
Ground Transportation Options
The ski resort maintains a fully paved car park for guests, so driving to Cerro Catedral from Bariloche in a private rental car really could not be much simpler. Due to the good condition of the road connecting the ski resort at Catedral Alta Patagonia, Bariloche, and Bariloche airport, it should not be necessary to rent an SUV or 4×4 vehicle unless there is a storm forecasted, but would be a good idea to carry snow chains as these roads do ice up.
Of course, taxis (locally called "remise") are good options as they are plentiful in the area. However, many of these hired cars are not equipped with racks to carry skis and snowboards. If you speak Spanish, here is a list of local remises. No Espanol? No problemo. Your hotel should be able to assist finding you a ride to and from the resort.
Home to The Heart of Patagonia
The ski resort of Cerro Catedral Alta Patagonia, or commonly known as Catedral, features a swathe of ski lifts with a total of 34 lifts taking skiers and riders to nearly 3000 acres of on and off-piste terrain.
Cerro Catedral Ski Resort has the most modern resort base in South America, including a shopping mall and accommodation options with more than 7,000 beds within walking distance to the main lifts.
Bariloche itself is often considered the heart of Patagonia and is a fun tourist city with great restaurants, booming nightlife and once off the busy main avenues, stunning Patagonia scenery featuring views of the national park.
What is The Ski Terrain Like?
Terrain – freestyle

The Catedral terrain park in the Nubes zone is one of the most progressive and established ski and snowboard parks in all of South America. A dedicated lift and a full time staff of both grooming and snow park specialists have helped develop this park into one of the best. There are features and sections for all abilities from those just being introduced to terrain parks all the way to skiers and riders looking to push the limits of the sport.
A full calendar of skiing and snowboarding events assures there is almost always action to watch through both night time contests at the base area to globally recognized series taking place in the park.
Terrain – experts

Experts have a range of off-piste options as well as backcountry chutes and bowls and hikes including Refugio Frey Hut, for backcountry ski touring and splitboarding. The Southern side of the mountain offers excellent hikes to the steep chutes, bowls and cliff bands of Punta Nevada and La Laguna on the resorts backside.
To access the best terrain, be sure to go with a certified ski guide in Bariloche such as one of our week-long PowderQuest adventures or if you are traveling solo, understand the current snowpack and weather, always carrying avalanche safety equipment. Cell phone service is spotty once out of the resort.
Suggested Trip for Advanced-Experts:  Bariloche Argentina Backcountry Touring  or Patagonia Off Piste + Sled Accessed Backcountry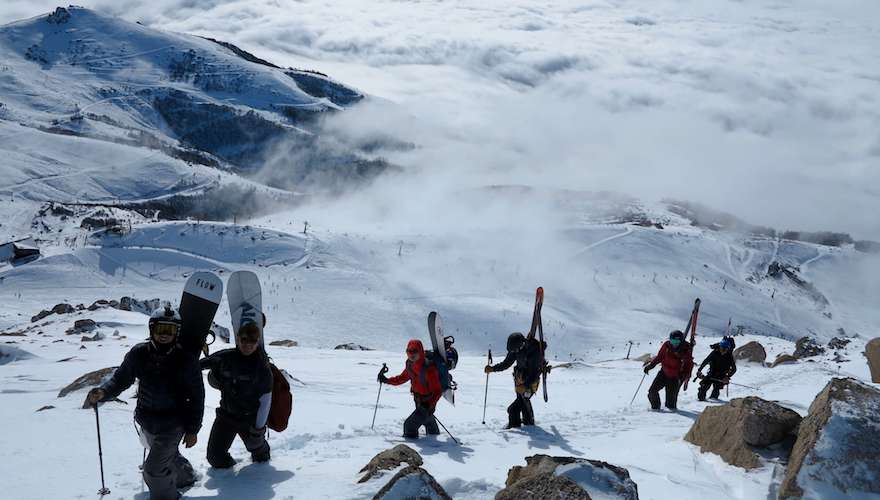 Terrain – Intermediates

A large portion of the resort is dedicated to intermediate skiers and snowboarders, and the staff does an average job on their grooming to keep the pistes running throughout the season. Off the piste you can practice your skills in a mix of packed powder and of course fresh pow after a storm.
Suggested trip for experienced intermediates Argentina Ski Resort All Mountain Tour
Snowboarding Bariloche? A note to those looking to snowboard Catedral. There tends to be quite a bit of traversing involved to get to certain zones on the mountain, so be prepared. The lift operators are strict about using a snowboard leash.
Beginners and non-skiers

There is plenty of playing to be done at this resort. You can take a lesson, rent snowbikes, or go tubing. Aside from that, just take in the amazing views across the lakes and mountain ranges or enjoy yourself in the Las Terrazas shopping mall (home to nearly 50 shops) or the busy Amancay Plaza at the base area.
Non skiers can also take the tram to have lunch at a refugio up on the mountain to fully experience and enjoy the breathtaking views from high on the mountain.
If you prefer to stay downtown, there are endless things to do in Bariloche from shopping, people watching, touring the local cafes and chocolate shops (our favorite is Mamuschka), or taking it easy around the central plazas.
Resort Stats
Ski Resort Location: 12 miles from San Carlos de Bariloche, Patagonia Argentina
Elevation: 1,050m (3,445ft) to 2,050m (6,725ft)
Ski Resort Vertical Drop: 1,000m (3,280ft)
Ski Resort Inbound Terrain: Close to 1500 skiable acres, with a total of 75 miles (120 km) in runs and cat roads.
Ski Lifts: 34 with a mix of six-packs, quads, doubles, t-bars, disk surface lifts, a gondola.
Off-Piste and Backcountry Access: Excellent
Heli-ski: No
Avg. Annual Snowfall: 236 inches (600 cm) at the top elevation at 2100 meters.
Bariloche Ski Season: You can ski Catedral from June to October
Ski and Snowboard Park: Yes
Night Life: One of the best scenes in South America
To gain a deeper perspective of what the off-piste and backcountry skiing and snowboarding is like in Catedral, watch this video featuring a PowderQuest guided resort and backcountry tour: 
Bustling Ski Resort and Energetic Nightlife
Depending on the time in the ski season you visit, Cerro Catedral's ski center can be quite busy as it is one of the most popular ski resorts in South America. It is known as the place to ski and snowboard in Patagonia. If you want to ski Bariloche, we recommend August and early September.
That being said, the busy atmosphere provides for outstanding nightlife. While apres-ski is pretty quiet, especially compared to Europe, late night is when the locals and South American tourists like to really party.
Need to escape? If the booming Bariloche and ski resort scene is not your calling, nearby Patagonian escapes are the answer.
Our Top 3 Escapes from Bariloche
Don't miss these 3 stellar getaways from the norm:
Baguales Catskiing and backcountry touring
Mallin Alto's snow mobile accessed backcountry adventures
Backcountry hut touring 
Contact us for more details
Breathtaking Scenery of The Andes
The section of the Andes mountain range surrounding Bariloche is nothing short of stunning. The granite Cathedral spires for which the resort is named (Catedral in Spanish) are similar to the mountains around France's Chamonix; and the views across the National Park Nahuel Huapi, toward 3,554m Mt. Tronador; downtown and across the Andes towards Chile's lake region, are simply incredible.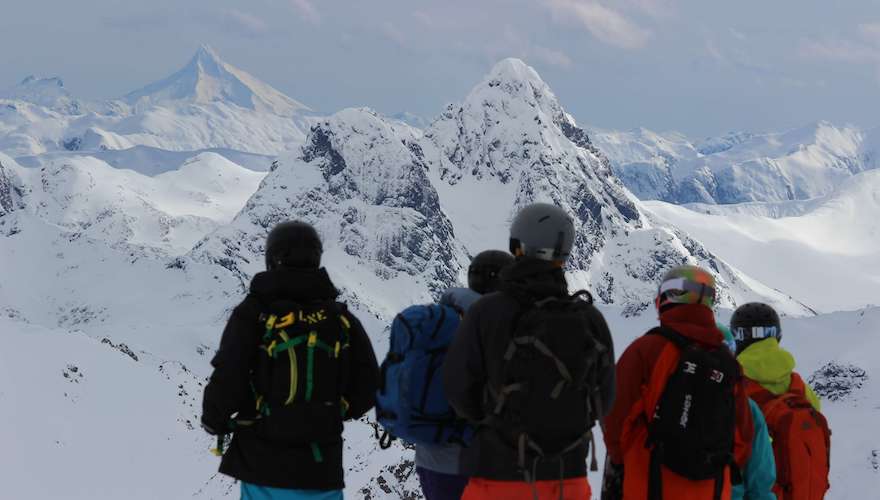 Where to Stay
Between Bariloche and Cerro Catedral base village area there are hundreds of hotels, hosterias, and cabins to accommodate all level of comfort and budgets.
PowderQuest does not book hotel reservations (ski vacation packages) in Bariloche (with the exception of trip extensions for our guided trip guests). A good start if looking for a non-guided ski holiday package or hotel reservation in Bariloche or Catedral is via Booking.com 
Staying in Downtown Bariloche
Stay in town if you want easy access to things to do in Bariloche after skiing or on a weather day. There are numerous hotels within walking distance of the best cafes, restaurants and chocolate shops. 30 minute drive to the ski resort. Find a hotel > 
Staying at The Ski Resort Village
Stay in Catedral if you want to skip the daily drive to the skiing. The village area has a selection of bars and restaurants, and some hotels offer dinner. However there will be some days or evenings you will want to venture into the city. Transfers from the hotel or via taxi gets you there in under a half hour. Find a hotel > 
Lodging between Bariloche and Catedral
In between Bariloche and the ski resort there plenty of  neighborhoods and lakefront lots filled with high-end hotels and small budget oriented cabanas. While a bit more relaxing, you will need to drive pretty much everywhere. This means driving to the city for dinner or daily to the ski hill. Find a hotel > 
Guided Snow Trips From Intermediate to Expert
With over 20 years guiding here, PowderQuest knows how to move around the Bariloche ski areas to avoid the crowds, make the most of the resort on a powder day and navigate the complicated maze of cat tracks.
Catedral is one of our most popular stops on our guided trips due to the fun in-bounds snowboard and ski terrain filled with sweeping open powder bowls and quality groomed runs, plus it is one of the few South American ski resorts with serious tree skiing.
Outstanding access to extensive backcountry terrain including a remote hut system for extended overnight trips.
Find a Guided Ski Trip to Bariloche