Cerro Chapelco Ski Resort: Guide to Skiing in San Martin de Los Andes
Chapelco Ski Resort was awarded Best Argentina Ski Resort for 2018, 2019 and 2020 by World Ski Awards. Our updated destination guide will teach you everything you need to know about skiing Chapelco in San Martin de Los Andes.
Insider tips
Inbounds and backcountry terrain 
How to get there
Recommended guided tours and much more
Let's drop right in. Ski season begins in June.
Where is Chapelco Ski Resort?
Cerro Chapelco is near the chocolate-box Patagonian village of San Martin de Los Andes in the southwest corner of the lovely Neuquén Province. This puts it squarely within the beautiful Lakes District of Patagonia, Argentina. The massive Volcano Lanìn sitting on the border with Chile and Argentina, dominates the landscape.
Additionally, the resort is approximately 930 miles (1,500 km) southwest of Buenos Aires, Argentina's bustling capital city. Bariloche is just under 120 miles (190 km) away by car. 
How to Get to Chapelco and San Martin de Los Andes
Getting to Chapelco is pretty straightforward. We break down the travel options here.
How to Get to San Martin de los Andes
From Buenos Aires, it is best to travel to San Martin de los Andes by plane. Several flights operate daily between the capital and Chapelco Airport, and none of them take more than a few hours. Aerolineas Argentinas is the main operator. Check flights on Google Flights or Hopper
Getting to Chapelco from San Martin
The ski resort and the town of San Martin de los Andes are just under 10 miles (15 km) apart.  Due to the mellow gradient of both the paved and unpaved road, snow chains generally aren't required, even for 2WD vehicles wishing to make the journey, but be sure to check before leaving town, especially after a fresh snowfall.
To reach Chapelco from San Martin de los Andes, simply drive along Ruta 234 towards Villa la Angostura, and then take a left hand turn onto RN19. The entire trip typically takes no more than 20 minutes.
By Rental Car
As mentioned, even 2WD vehicles without snow chains can typically reach Chapelco safely, so travelers should feel confident about renting their own car. Car rentals are available both at the airport and in town. The parking lot is quite large and does not charge any fees.
By Shuttle and Bus
 In addition to the many inexpensive van shuttles that provide quick and easy transportation between Chapelco and San Martin de los Andes, there is also a cheap bus that departs from the San Martin bus terminal on the weekends.
By Taxi
Of course, it is possible to make the trip to and from Chapelco and town in a taxi (locally know as remise). When choosing this option, be prepared to stash your skis or snowboard in the open trunk of the car, and hang on for a wild ride.
When to Ski Chapelco
Like most ski resorts in Argentina, you can snowboard and ski Chapelco from June to early October as it gets between 20 and 30 feet of snow a season. The best time to ski here for quality snow is later July into early-mid September.
With 2,360 feet of vertical drop, the Patagonian resort starts above the treeline and leads into some nice old-growth forest runs. Easy access into the steep backcountry bowls make for unforgettable days in the Southern Andes.
What is The Ski Terrain Like?
Terrain – freestyle
Freestylers looking to snowboard and ski San Martin can't go wrong at the Chapelco SnowPark. Home of the Roxy and Quicksilver Snow Jams, boxes, rails, and kickers are set up for different riding levels and generally good tunes are playing throughout the day. The park is open, weather permitting from 10 to 4 daily.
Terrain – experts
As far as finding steep terrain, with the exception of some tree runs to riders left of the resort, most of the better zones are out of bounds and require avalanche safety equipment and notifying the ski patrol of your plans.
The back bowls are outstanding offering a mix of open bowls where you can see your line from top to bottom to tight gnarly chutes with some mandatory airs. It is paramount that you go with someone that knows the terrain and safe way out. On a good day you can do multiple laps back here with each hike out lasting about 30 minutes.
Suggested Trip for Advanced-Experts: Argentina Off Piste Snowboard and Ski Tour
Terrain – Intermediates

This might just be the best ski resort in Argentina for intermediates. If you are looking to ski and snowboard Chapelco this summer, as an intermediate or advanced skier or snowboarder you have a large amount of slopes and off-piste terrain to explore, including some beautiful tree runs.
The trees are nicely spaced out and are not too steep. The resort also has one of the best ski schools in the Andes.
Suggested Trip for Intermediate-Advanced: Argentina All Mountain Ski Resort Tour
Beginners and non-skiers

There is a well recognized ski school here with level 3 English speaking ski and snowboard instructors. Beginner runs are wide and perfect for learning.
For those visiting that do not ski, you can enjoy the views of the stunning Lanin Volcano or go dog sledding with the huskies. In town, you can spend the day shopping, sipping delicious coffees and sampling the chocolate that makes San Martin so popular.
Weather and Snow Conditions
For updated snow conditions at Chapelco and current weather use the following apps:
Chapelco webcam (don't be shocked to see it raining at the base of the resort, this is quite common)
Resort Stats
Ski Resort Location:Town of San Martin de Los Andes Northern Patagonia and Lake District of Argentina
Elevation: 1,250m (4,100ft) to 1,970m (6,463ft)
Vertical Drop: 720m (2,363ft)
Inbound Terrain: 28 Runs
140% Beginner, 30% Intermediate, 15% Advanced, 15% Expert
Ski Lifts: 12 chair and surface lifts
Hotels and Lodging: Numerous options in San Martin, 20 minutes away
Off-Piste and Backcountry Access: Excellent
Heli-ski: No
Annual Snowfall: 350 inches (890 cm)
Ski Season: June to October
Ski and Snowboard Park: Yes
Night Life: The city has a decent mix of bars, discos and a casino
Expanding the Skiable Terrain?
Currently Chapelco offers 4000 skiable acres. In the future, the resort expansion looks to push deeper into the back bowl creating more expert lift-accessed terrain currently accessed only on guided off-piste ski trips or those that are backcounty savvy.
San Martin de Los Andes
One of the best things about the resort is the nearby town of San Martin de Los Andes.
Kind of like a tourist's Swiss ski village in the Argentinean Andes, complete with rows of shops selling handmade chocolates and a great selection of shopping, bars, and of course steak restaurants. After skiing, you can spend hours wandering the town and absorbing the local vibe.
Hotels in San Martin range from budget log cabins for 4-6 guests to high end superior bed and breakfasts with quality spas. Start here for lodging options.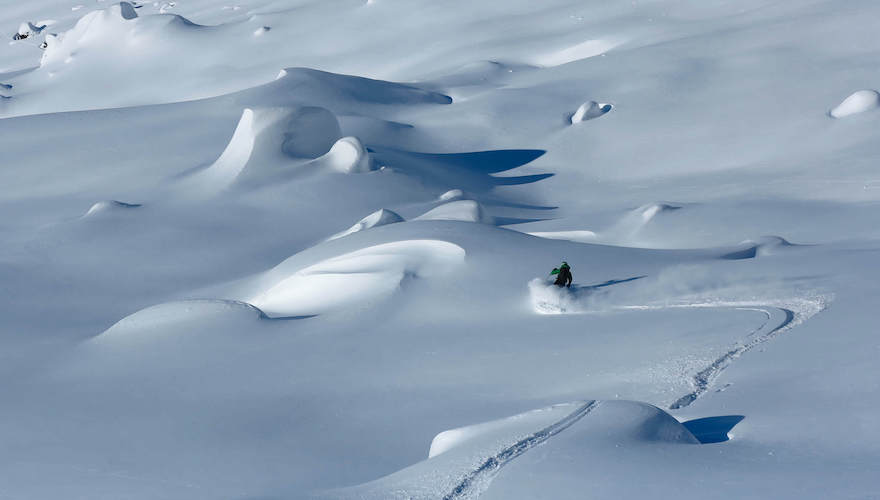 So, there you have our updated guide of the Chapelco ski area. Check back each season for updates or join one of our suggested adventures below.
Recommended Ski Tour Visiting Chapelco
Discover the culture and stellar skiing of the Argentine Lake District:
2 certified ski guides
6 guests maximum 
comfortable hotels, lift tickets, private transportation, hosted dinners with wine and more
Over 2 decades of experience