Cerro Bayo Ski Resort: Guide to Skiing Villa La Angostura, Argentina
This destination guide will help you learn about the Cerro Bayo Ski Resort located near the charming village of Villa La Angostura, Argentina.
You will discover:
How to get there
When to go
Terrain 
insider tips
Recommended guided trips and more
Let's get started, the Cerro Bayo ski season opens in June!
Where is Cerro Bayo Ski Resort?
The small ski resort of Cerro Bayo is situated inside the Neuquén Province of rugged Argentine Patagonia. The closest town to Cerro Bayo is Villa La Angostura. The two sit a mere 6 miles apart from each other.
Outside of Villa La Angostura, the two closest cities are San Carlos de Bariloche, which is just over 1 hours drive to the southeast, and San Martin de los Andes, which is 2 hours to the north.
How to Get to Cerro Bayo and Villa La Angostura
Getting here is pretty straightforward. We break down the options here.
Getting to Villa La Angostura
To reach the town of Villa La Angostura from Buenos Aires, it is best to take a plane from the capital to the airport in Bariloche. This flight is a mere 2 hours long, and operates several times each day, every day of the week.
From Bariloche airport, Villa La Angostura is an hour away. It is easy to rent a car at the airport in Bariloche, or travelers may take the short journey in a public bus from the bus terminal outside of Bariloche.
Getting to Cerro Bayo
As mentioned, Cerro Bayo Resort is located just 6 miles (9 km) away from Villa La Angostura. The drive between the ski resort and town is fairly easy, although portions of the road connecting the two are unpaved and riddled with pot holes. Fortunately, the road is not at all steep.
You can get there via private vehicle, hire a taxi in town, or additionally, there are several van shuttles that provide door-to-door service between hotels and the resort.
Poles Apart to Bariloche
An hour away from the hustle of Cerro Catedral in Bariloche, the Cerro Bayo Ski Resort is the complete opposite experience – it's a small ski center, minimal crowds, with 13 lifts, including 2 gondolas and 22 pistes (groomed slopes).
With the 2013 opening of the Cumbre Gondola, there has been an expansion of over 200 hectares (500 acres) of off-piste terrain to explore, previously only accessible by hiking or ski touring. It is important to note the gondola does not always operate due to winds, power grid issues or just simply the "Argentine Factor".
The Village of Villa La Angostura
The ski area is just a 15 minute drive away from the small Argentinean town of Villa La Angostura, which is a quiet touristic village, close to the Chilean border.
Villa La Angostura has a mix of high end shops to pick up some unique Patagonian gifts. The village also has dozens of hotels and cabins ranging from basic to 5 star. For such a small town the restaurant options are outstanding. Many of Argentina's top chefs have relocated here, and have opened an impressive series of slow-food style restaurants.
For those on a budget, you can find inexpensive pizza, grills, empanadas and sandwich bars offering quality local food at a fair price.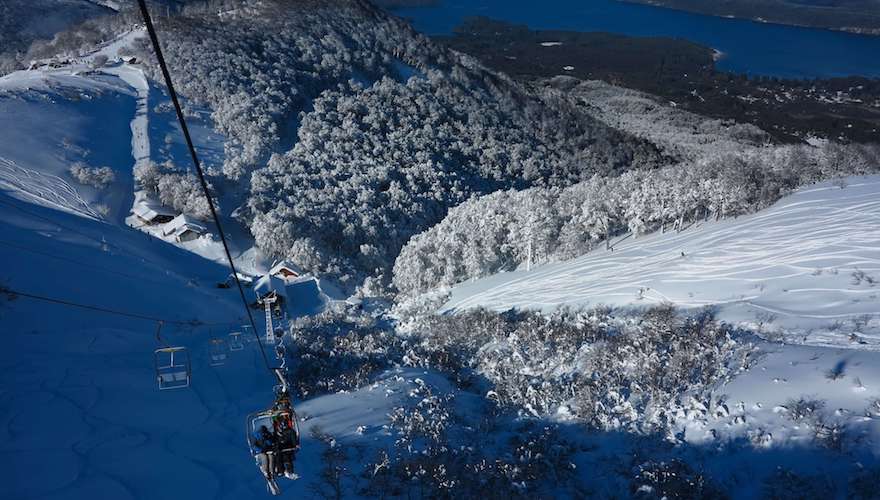 What is The Ski Terrain Like at Cerro Bayo?
Terrain – freestyle

As well as a nice beginner's park located on run 18 featuring beginner rails, boxes and airs, the main terrain park for intermediates to experts sits between the trees and has the nice addition of beanbags and sofas for relaxing and listing to fresh tunes.
Terrain – experts

Another gem tucked away in Patagonia. Cerro Bayo's tree runs and easy to access backcountry bowls are some of the best around when the conditions are right. A short gondola ride (when operating) will get you to the increasing popular off-piste zone, Provinciales.
If you want to get further out and into some true backcountry it is advised to go with a certified ski guide. You won't be fighting for fresh tracks here and most of the slack country and backcountry runs loop back into the basin of the resort as long as you know the exit.
Suggested Trip for Advanced-Experts: Argentina Backcountry Adventure Tour
Terrain – Intermediates

Intermediate skiers and riders will find a trail system and a mix of on and off-piste terrain from wide open slopes to glades and tighter tree runs through the Lenga forest. The Cerro Bayo snowboard and ski schools offer certified local instructors.
Beginners and non-skiers

The ski center has a small zone for beginner skiers and snowboarders located at mid mountain, known as 1500. With outstanding views of the surrounding national parks, its an unforgettable place to learn to slide on snow. Not skiing? As well as snowshoeing, the resort hosts a few unusual activities for spectators such as snow-polo (yes, with horses) and extreme rugby.
Weather and Snow Conditions
For updated snow conditions and current weather check out Snow-Forecast to get a general idea of what to expect over the next few days.


Resort Stats
Ski Resort Location: Outside the town of Villa La Angostura in Patagonia, Argentina
Elevation: 1,050m (3,445 ft) to 1,805m (5,922ft)
Vertical Drop: 755m (2,477ft)
Inbound Terrain: 25 Runs with 14 km of skiable groomed slopes.
Ski Lifts: 13 chair, surface lifts, and gondolas
Hotels and Lodging: Numerous options in Villa La Angostura
Off-Piste and Backcountry Access: Excellent
Heli-ski: No
Annual Snowfall: 350 inches (890 cms)
Weather: This is Patagonia! 4 seasons/day. Come prepared.
Ski Season: June to October
Ski and Snowboard Park: Yes, 2 parks
Night Life: The city has a decent mix of bars, discos
Cerro Bayo was built up as a small, family-run resort by Belgian, Jean Pierre Raemdonck. In 2007, the same year that it hosted the 2nd South American Ski Mountaineering Championship, it was sold to a private investment group.
Now marketed as an upscale "boutique" resort, it has a way to go and still retains the rustic feel that we found 20+ winters ago. For years, Cerro Bayo has been talking of a plan of expansion and additional investment, including rumors of a well needed paved access road, a gondola from the town of Villa La Angostura and more lift accessed terrain expanding into the off-piste Provinciales zone. However to date, it all seems to be a lot of false promises.
Currently there are 6 places to eat on the mountain. 2 at the base area and 4 at 1500 meters.
There are runs that take you all the way through the treeline, and a 6 km panoramic trail where you can take in the amazing views of the nearby Nahuel Huapi Lake. The real jewel of Cerro Bayo is the easily accessed backcountry with steep bowls and some of the best tree runs in South America amid spectacular virgin forests.
So, there we go with our run down of the Cerro Bayo ski area. Well worth the visit, especially if you are looking for something more off the beaten track from the other ski areas in Argentina and Chile.
Recommended Ski Tour Visiting Cerro Bayo
Ski up to 3 different ski resorts in Patagonia. Simply fly into Bariloche and the rest is covered:
2 certified guides
6 guests per trip
hotels, lift tickets, private transportation, hosted dinners
Over 20 years experience guiding in Patagonia