Ski Pucon: Guide to Skiing the Pucon Villarrica Ski Resort and Volcano
This guide will help you learn about the Pucon Ski Resort located on the classic Villarrica Volcano in southern Chile.
Travel tips
Details on the terrain
Getting there
Guided trips and more
Let's get going, Pucon's ski season kicks off this June.
The small ski area often referred to as Ski Pucon, offers beautiful views of the surrounding Lake Villarrica and easy access to mystical volcanic skiing in southern Chile.

 The natural terrain on the Villarrica Volcano is fun for freeskiing and snowboarding, and short hikes access some fun steep pitches and cornice drops.
The resort operates from early June to late October.
Where is Pucon and The Villarrica Volcano?
The Pucon-Villarrica resort, lies on the skirts of the active Volcano Villarrica located in Chile's Araucania Region. The resort is located 490 miles south from Santiago, Chile's vibrant capital. 60 miles east of the city of Temuco, the closest airport to the resort and village of Pucon. 
The nearest town is Pucon. A 30 minute drive separates this tourist village from the ski resort.
How to Get to Pucon and Villarrica Ski Resort
The ski resort and Pucon are relatively easy to get to.
Flying to Pucon

During the summer months, it is possible to fly directly from Santiago to the Pucon airport. In the winter months, however, it is necessary to fly into the nearby airport at Temuco.
The airport in Temuco (airport code ZCO) is called La Araucanía International Airport. From Santiago, this airport is only a 1-hour flight away. The town of Pucon is a 1.5-hour drive from Temuco's airport. Buses run between Temuco and Pucon, and there are taxi drivers willing to take visitors on the roughly 100 km journey. There's always the option to rent a car at the airport.
How to Drive to Pucon from Santiago

Of course, it is also possible to drive directly to the resort from Santiago's airport. The journey of just under 500 miles typically takes 8-9 hours. For most of the trip, it is possible to drive along the modern Ruta 5 South. On this well-maintained highway, the speed limit is a zippy 120 km/hr. However, there are many tolls on this road, so drivers should come prepared with plenty of Chilean pesos as well as an international driver's license.
To get to Pucon from Ruta 5, simply follow the well-marked route from the highway after your first toll south of Temuco. The road from Ruta 5 to the resort is almost entirely paved and is easy to navigate.
How to Get to the Resort from Pucon

From town, it typically takes about 25-30 minutes to drive to the ski resort on easy-to-traverse roads. The road is not exceptionally steep and does not have any scary drop-offs or crazy turns. As you enter the national park, the road turns to dirt. A 4WD vehicle should be sufficient most of the time, but on days after the snow, the road conditions quickly turn to ice so a four-wheel drive with snow chains is a good idea. Snow chains are occasionally mandatory with a check point just beyond the entrance to the Villarrica National Park CONAF station.
To get to the resort from town, head out of town and go right at the roundabout so that you are headed towards the town of Villarrica. In only half of a kilometer, you will clearly see the sign for the turn-off on the left to the resort.
Taxis and shuttle busses are plentiful between the town and the resort.
Hitchhiking

Hitching a ride up to the mountains is not that difficult however on weekends and July holiday you will be competing with a lot of locals. Bring some patience and you will eventually get a ride and probably meet some really cool people along the way.
When Was The Last Time You Peered Into One of The World's Most Active Volcanic Craters?


The main focus here for most visitors is the ascent to Villarrica's smoking crater taking you to the 2,840m (9,317 ft.) peak of the volcano, with a big amount of vertical to ski down. If you are lucky and get a powder or corn snow cycle, it will be one of those descents you talk about for years.
When was the last time you stared down into the mouth of one of the world's most active volcanos?
The descent back to the Villarrica-Pucon resort is over 1,640 vertical meters (5,380 feet) through the alpine slopes and deep lava flows creating natural half pipes, cornices and wind lips.
What is The Ski Terrain Like on The Villarrica Volcano?


Terrain – freestyle

The Ski Pucon staff builds a small intermediate level terrain park, featuring small hits, some rails, and a short border-x course, that seems more apt for children.
Recently however Antonio Lobos, Pucon local, has been dedicating his winter months to building a better park and boarder-x course for international teams to train. If you are there at the right time you may get a chance to rop a few laps on his course.
Maintaining the park is a chore due to strong winds and heavy precipitation during most of the ski season. The best time to check out the park, and the ski area, is in September when the weather usually improves. Pucon weather is known to be challenging, but good things come to those that wait.
Terrain – experts

While the inbounds terrain has little to offer the expert skier and snowboarder, the Villarrica ski resort does act as the gateway to a massive amount of backcountry terrain for those willing to work for their turns. From steep chutes and rock drops, to the popular ski tour to the summit, there is plenty to explore.
Suggested Trip for Advanced-Experts: Chile Volcanoes Backcountry Tour
Terrain – Intermediates

This is a good zone for intermediate skiers and riders. The Pucon volcano staff maintain several groomed runs, including a low angle mellow cruiser back down to the main parking lot, offering easy off-piste access into the beautiful Lenga forest.
Beginners and non-skiers

Several beginner runs around the main cafeteria area make for a good day for those starting out. A small ski and snowboard school offers private and group classes, arranged in an office to the left just as you walk in the main lodge.
For non skiers, a visit to the nearby volcanic caverns or snow-shoeing in the forest is a popular activity finishing at the deck of the cafeteria for a cold local cerveza and an amazing view of the smoking summit.
Weather and Snow Conditions
For updated snow conditions and current weather Snow-Forecast will give you a base idea of what to expect.
Resort Stats
Location: Pucon, Southern Chile's Araucania province
Elevation: 1,410m (4,626ft) to 2,100m (6,890ft)
Vertical Drop: 690m (2,264ft)
Inbound Terrain: 22 Runs
20% Beginner, 40% Intermediate, 40% Advanced
Ski Lifts: 9, but rarely do more than 3-4 operate
Hotels and Lodging: In town, 30 minutes drive. No on mountain lodging.
Off-Piste and Backcountry Access: Good
Heli-ski: No
Annual Snowfall: 400 inches (1000 cms)
Weather: Lots of wind and rain. You need to time the weather right to catch it on a good day.
Ski Season: June to October
Ski and Snowboard Park: Yes
Night Life in Pucon: Some of the best nightlife in Southern Chile with bars, discos, a casino, and a young crowd ready to party until dawn.
To get a good idea of what to expect when attempting to summit and ride this beast check out the video below from our amigo Spencer Francey ( #chasewinter).
The Overall Resort Experience
Rustic. If you are looking for a high end ski area, you need to go elsewhere. Unfortunately there is little to offer at the base area except a cafeteria with junk food and poor service and it's been like that for years. However it should be noted, the town of Pucon, just down the road, is one of our favorites in all of Chile with excellent cafes, restaurants and bars.
The ski lifts of the resort are old and slow. However, if you come with an open mind, with a taste for adventure, Villarrica-Pucon ski resort can surprise you with some amazing days in southern Chile.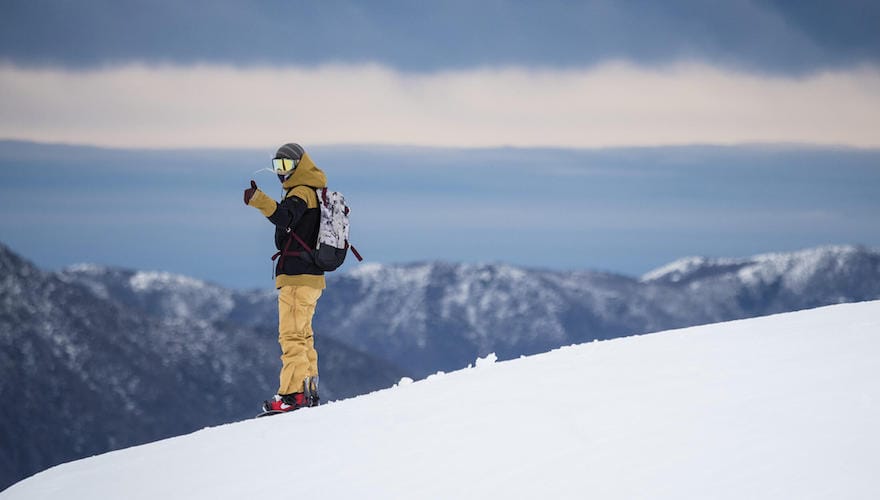 So, there we go with our run down of the Pucon ski area and Villarrica Volcano. While patience and an open attitude is required, this place is still a gem in the southern Andes…weather allowing.
Recommended Ski Tour Visiting Pucon
Tour up and ski down Chile's classic volcanoes on this fully hosted backcountry ski and splitboard adventure. Fly into Temuco, Chile and the rest is covered:
Certified ski guides
6 guests per trip 
hotels, private van, ski tickets, hosted dinners, Chilean wines and more
2o+ years of experience skiing and guiding on Chile's classic volcanoes.