Baguales Mountain Reserve: A Guide to Catskiing in Patagonia, Argentina
This destination guide will help you learn about Baguales Mountain Reserve. A private destination for catskiing and backcountry touring in stunning Patagonia, Argentina. 
You'll quickly discover:
When to go
How to get there
What to expect
Recommended trips and more
Let's dive in, ski season at Baguales kicks off in June!
Where is Baguales Argentina?
Baguales Mountain Reserve is located in the southernmost section of Argentina's oldest national park, Nahuel Huapi, just over 1 hour from the sprawling city of Bariloche. The reserve offers nearly 25,000 acres of pristine backcountry touring and snow cat skiing and snowboarding terrain in mystical Patagonia.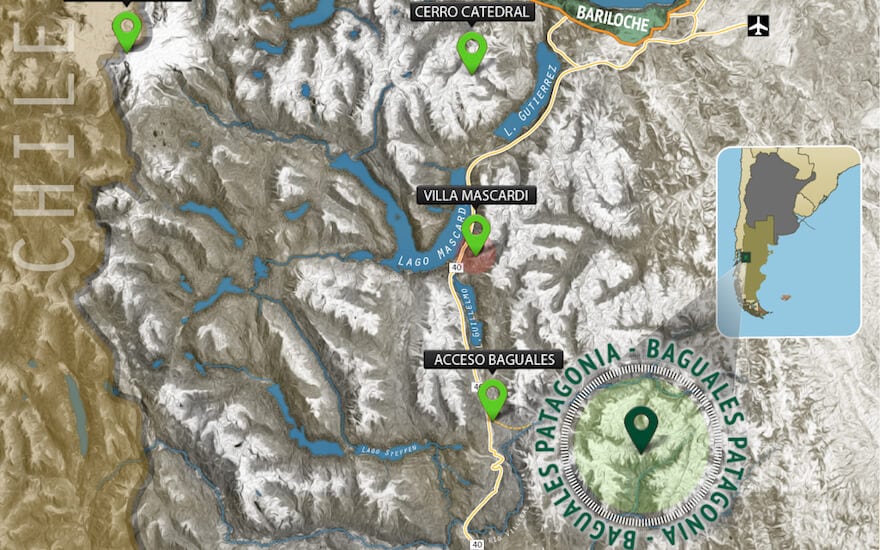 How To Get To Baguales Mountain Reserve from Bariloche
Getting to Baguales is an adventure in itself and quite the unique experience involving four-wheel drive river crossings, sleds, and snowcats.
Baguales is quite isolated as far as Argentine ski destinations go. Buenos Aires, the country's bustling capital, is well over 900 miles away from the reserve. In fact, the closest city to the remote cat skiing destination is over an hour away; The city of San Carlos de Bariloche.
Bariloche is not only your gateway to all the skiing offered at Baguales, but also to the environmentally rich Rio Negro Province and the rest of the Argentine Lakes District.
How to Get to Bariloche by Air
Since Buenos Aires is located so far away from Baguales, it's best to fly from the capital to Patagonia and then to arrange ground transport from Bariloche's airport to Baguales. Bariloche is the easiest Patagonian city to fly into if you want to reach Baguales.
Flights depart regularly from Buenos Aires for Bariloche on Aerolíneas Argentinas. International travelers, however, should be aware that these flights originate in Buenos Aires's domestic airport (Jorge Newbery Airport), which is around one hour away from the international airport (Ezeiza International Airport). Those traveling from abroad to Baguales should be sure to schedule sufficient time to make this transfer in Buenos Aires.
Getting to Baguales from Bariloche

From Bariloche and the Bariloche airport, Baguales is approximately a one-hour drive away. Private cars can easily be rented at the airport and in the city center, but you will need a four wheel drive with good tires.
The route 40 south road from Bariloche to Baguales winds alongside multiple trout filled lakes, Gutierrez, Mascardi and Guillelmo, and past some epic peaks. In fact, it snakes through one of the most beautiful areas in Patagonia, so you won't want to rush the drive.
The 4×4 trail to Baguales heads eastbound off of route 40. The Villegas River needs to be crossed several times to reach the lodge which is the starting point of all programmed activities. 4×4 and snow sleds are often needed to reach the lodge.
The Baguales Catski Experience
A truly unique destination property that rivals some of the world's best cat skiing operations in the US and Canada.
Baguales Mountain Reserve, our top pick for Southern Hemisphere skiing via snow cat, offers options from 1 day cat skiing to multi day trips including options to combine cat ski adventures with backcountry touring adventures led by UIAGM/IFMGA guides.
The incredible lodge is located on a pristine Patagonia backdrop and is accessed only via 4×4 road and snowmobiles which makes the journey just as incredible of an experience as being there.
The Backcountry Lodges of Baguales Reserve
The Baguales Lodge
The main lodge is a 3,200 square foot building built on the site of the former horse stable. The lodge was built using locally sourced materials and has 4 large double bedrooms each with their own private bath. There is also a large shared bedroom that can sleep up to 8 guests. The lobby area also houses other amenities such as a billiards table and fireplace for relaxing after an incredible day exploring the mountains.
Refugio La Mesada
Located at 1660 meters (5,400 feet), Refugio La Mesada is the largest backcountry lodge that has room for up to 28 people and a large dining room. The centerpiece is the enormous central fireplace that provides heat to the entire lodge. It's a great place that is often used to enjoy a warm beverage or a nice bowl of fondue.
Refugio El Pintado
1700 meters above sea level (5,577 feet) a 750 square ft cabin just 30 minutes by cat from the La Mesada lodge or a 2 hour hike in. This cabin provides a more rustic overnight experience but still fully equipped with a kitchen, bathroom, stove, and accommodations for up to 10 people in one bedroom and shared bath.
Refugio Valle Norte

Located along a mountain stream, the oldest shelter in the Baguales reserve, Refugio Valle Norte is located amongst a forest of beech trees and generally used as a place to rest and grab a drink of hot yerba mate while touring the remote area.
A Typical Day Skiing at Baguales
A typical day includes a welcome breakfast enjoyed with stunning views of some the earth's most pristine landscapes at the Refugio Mesada followed by a brief safety presentation by the Baguales UIAGM guides.
Only a few steps from the Refugio the group will board the snowcats for a full day of cat skiing and snowboarding amongst seemingly infinite terrain. With ideal conditions, you can expect 12-14 descents each day amounting close to 5,000 meters, just over 16,000 vertical feet! 
Lunch is enjoyed together and included in the middle of the day, and generally around 5pm the cat returns to Refugio Mesada where hot tea, snacks, and afternoon Patagonian tea will be waiting for you.
If you are staying overnight (highly recommended due to the experience and the amount of travel involved) a delicious typical Argentinian meal of local meats, fish and vegetables are served along with vino tinto (red wine)!
So, there we go with our run down on Baguales Reserve. Well worth the visit, especially if you are looking for a unique Patagonia ski experience aways from the day to day.
Recommended Ski Tour Visiting Baguales
Resort accessed off-piste and backcountry on this fully hosted backcountry ski and splitboard adventure. Simply arrive to Bariloche and the rest is taken care of:
2 certified ski guides
6 guests per trip
Lodging, lift tickets, private transportation, hosted dinners, wine and more
Over 2 decades of experience in Patagonia