The World's best ski resorts are constantly being ranked and awarded by prominent magazines and travel blogs. With thousands of ski resorts nestled within the beautiful snow-blanketed mountains around the planet, how do you discover the best ski resorts in the world? 
Leave it to Ski Magazine to round up the world's best places to ski. Their editors and journalists, all diehard skiers, constantly travel the planet in search for the best ski resort destinations. 
As summer in the Northern Hemisphere rolls around, choices on where to snowboard and ski become limited to the resorts of the South – New Zealand, Australia, South Africa, Chile and Argentina.
Most of the best places to ski in the Southern Hemisphere are in the Andes. 
The Best Skiing at The End of The World
Tucked away in the world's longest mountain range stand 17 ski resorts in Chile.
From Portillo south to Patagonia, skiers and snowboarders can explore the uncrowded ski slopes in the mighty Chilean Andes- June to October. 
Chile ski resorts range from world class international destinations to family run snow parks, hidden in the snow-drenched valleys in the shadows of smoking volcanoes.
Ski Magazine lays out the best Chile ski resorts based around their multiple ski trips to South America.
Their best ranked-must visit ski resorts in Chile along with how to make it happen this year are right here. 
5 Must Visit Ski Resorts in Chile
Can you say exclusive? Portillo Chile is the unique boutique ski experience in The Andes, owned and operated by an American family for the last 50+ years. Portillo's hotel has 450 beds, and 480 staff.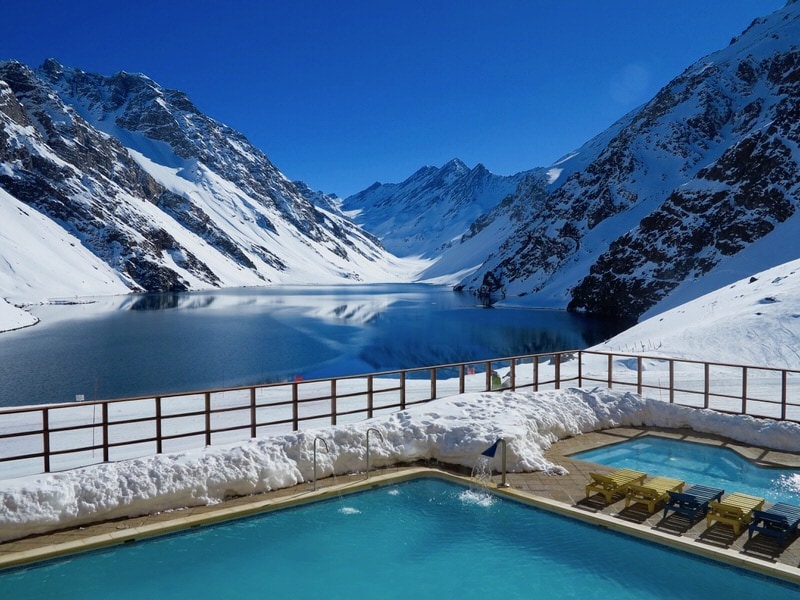 The Portillo exclusivity means you also have empty slopes, with your pick of mind-boggling ski terrain, and when the snow is not 100 percent the ski resort limits lift tickets so only hotel guests can ski. Luxury. Another reason Portillo is often ranked as the best ski resort in Chile and one of the world's top skiing destinations.
El Colorado-Farellones Ski Resort
As part of the Tres Valles resort complex (along with La Parva and Valle Nevado), El Colorado ski area can be skied on its own or with a joint lift ticket. It's popular with Chileans and one of the resorts with the most budget options for accommodation.
The Colorado skiing town and resort is constantly developing new features; last season they introduced night skiing in Farellones and a new run from the highest part of the mountain, La Copa.
Valle Nevado Chile's high altitude and southern orientation mean this is the Santiago based ski resort with the longest season – from mid June to early October. It's big enough to offer something for all tastes and budgets, with accommodation and food ranging from basic to luxury.
Currently undergoing massive development, this ski destination is right up there with anything in North America, with massive acres of skiable terrain and high quality snow, and linked to the Tres Valles network of La Parva and El Colorado.
Ski Magazine sums it up:
Right now, La Parva has the biggest mountain base in country with 7,000 beds in privately owned apartment buildings and condominiums. Ski Magazine compares it to Aspen, but with a lot less partying.
La Parva is proud of their family atmosphere and say they have the best beginners' piste, 70 ski school instructors, and teach kids to ski from the age of three.
For intermediate and advanced riders, La Parva offers great terrain, and no crowds.
The backcountry access to high Andean peaks is unmatched. 
Five hours drive south of Santiago is Nevados de Chillan, the ski resort of the Termas de Chillan area. Its location, nestled on the side of an active volcano, means that dotted around the ski area are crevasses hissing sulphur-tainted steam.
Even better, you can ski to the edge of thermal pools to finish off your day.
Chillán is rare in Chile in that it offers some tree skiing, and the contours of the volcano offer a complete playground on a powder day.
One of PowderQuest's favorite destinations. Learn more in our complete guide to skiing in Chile.
The Nevados de Chillan resort offers three and four star accommodation, but for those on a more of a budget, there are plenty of great options for accommodation down the Valle Las Trancas, about 20 minutes away. 
Now that you are familiar with Chile's "go to" ski resorts, it's time to dive deeper into how to make it all happen this year.
Pick your adventure to get started: