PowderQuest requires that you have holiday insurance for ski travel that covers personal accident, medical expenses, and air ambulance (emergency evacuation). If you are joining our Off-Piste, Lift Assisted Touring, or Backcountry Touring trips, you need to make sure your insurance covers off-piste and backcountry skiing and snowboarding in the countries you will be visiting.
In addition, we highly recommend adding on insurance that covers loss of effects, trip delay, trip cancellation and all other expenses which might arise as a result of loss, damage, injury, delay or inconvenience. Should you decide to not add on the recommended above, PowderQuest cannot be held responsible for covering costs or providing refunds arising from any event falling in these categories.
The following companies offer holiday and travel insurance for skiing and snowboarding: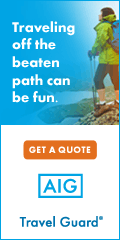 Travel Guard Click the banner or call 1-800-826-4919. Please tell the representative you are booking with PowderQuest Tours and give them our account number 103265.
World Nomads
American Alpine Club
Global Rescue
Before purchasing, please review the fine print of the plan you are considering for what is covered, especially internationally.