Curious where Ingrid Backstrom skis during the off-season? You're in the right place.
Ingrid checks in on why she loves skiing in South America and gets candid about the ski camp she founded with PowderQuest in the stunning country of Chile.
Author- Ingrid Backstrom
Ah, spring. When a young woman's fancy turns to thoughts of…more winter. Wait a second. I know, winter's not even over yet and I'm already dreaming of more? Well, for starters I got hurt this winter so missed some skiing and therefore am jonesing a bit more than normal.
But my typical spring pattern this time of year goes something like this:
End of April, "gee, it would be nice to get these feet out into the sun in some flip-flops."
Mid-May, "these trails are amazing! Mountain biking is so fun."
Early June, "gosh I love swimming in lakes and rivers. And it's nice to feel like my skin isn't completely translucent white for once."
July, "good grief it is hot, and I do not understand how some people can compare a day on bikes to a powder day, it's super fun but still, it isn't even the same thing. Speaking of powder, how many months until I can ski again?"
And the jonesing begins all over. Fortunately I have had the amazing opportunity the past several years to take advantage of one of the spectacular miracles of our planet that is the South America winter, skiing in the Andes.
First Women's Ski Camp in South America


This past summer, in partnership with La Parva, Chile, and PowderQuest, we hosted our inaugural women's ski camp, and I am still grinning and shaking my head in wonder recalling the hilarious and spectacular moments of that week. The group that assembled was from all over, different ages and backgrounds but everyone was equally enthusiastic about skiing and the Andean mountains, trying new things and taking it all in, and we had such a fun time.
The week started with everyone including myself wondering how the snow would be after a slightly meager start to the season. We had one initial snowy, foggy day when the whole group impressed the pants off of me by wanting to ski until the bell despite the fact you couldn't see a foot in front of you–but the snow was awesome.
And with that refresh and another one soon after, and with the whole place basically empty, we proceeded to track the front, back, side, and what felt like the whole country sometimes when one is skiing down at 6pm in the glow of sunset above Santiago.
We got up early, did some yoga, core exercises and warm ups each morning while watching the sunrise, had eggs, croissants, cereal, fruit, and as many cafe con leches as one could respectfully, and then did drills, ripped free runs, hiked, laughed, worked through our stuff with each other's help, made friends with Brazilians in the hot tub, had fresh seafood and traditional Chilean mashed pumpkin and Malbec and we improved.
At one point, we are not sure what happened but four of us loaded the chairlift and one person's skis got stuck and we were pitched off the chair, laughing hysterically and feeling like total gapers. We worked our way up over the course of the week and I felt totally proud and inspired when everyone shredded McConkey's chute under less than ideal conditions, in perfect form.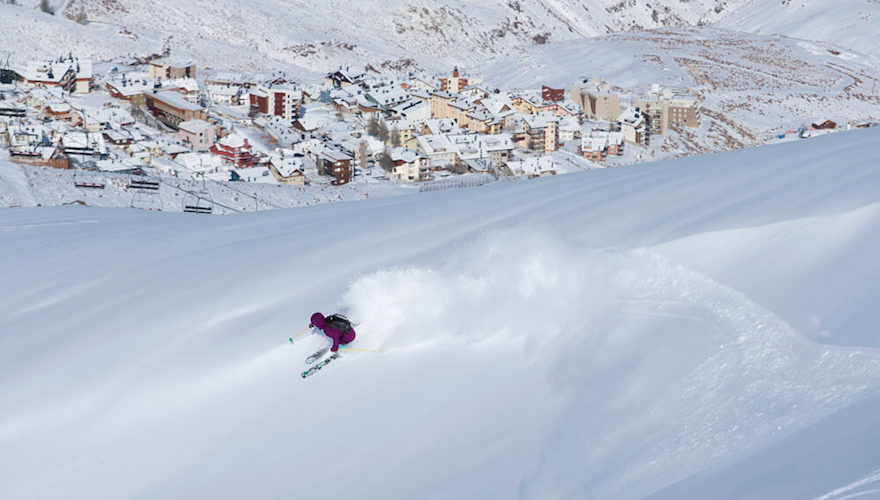 That's the thing that keeps me coming back to South America for skiing; getting out of my comfort zone culturally, socially, and occasionally on skis. Chile means meeting new people, being in the Andes when a condor soars overhead or after it dumps and you have the mountain to yourself, doing one more run when you think you couldn't possibly, and adjusting to the mellow pace of South American life. And the lake and the sun is always there upon return, with another winter soon after.
In 2016, Ingrid began her family in the beautiful state of Washington, passing the shred baton to Jess McMillan to lead our popular women's adventure ski camp in Chile.
About Ingrid
Ingrid Backstrom's big mountain free-skiing ski career needs little introduction. She has appeared in nearly 20 ski films. Powder Magazine, America's premier ski mag, honored Ingrid with five Female Performance of the Year awards.  Her thirst for global adventure has led to ski descents from America's highest peak, 20,000ft Denali, to remote ranges in Japan, China, The Andes, and Baffin Island. Her skiing style has led to appearances on The Today Show and Late Night with Conan O'Brien. 
Follow Ingrid on Instagram